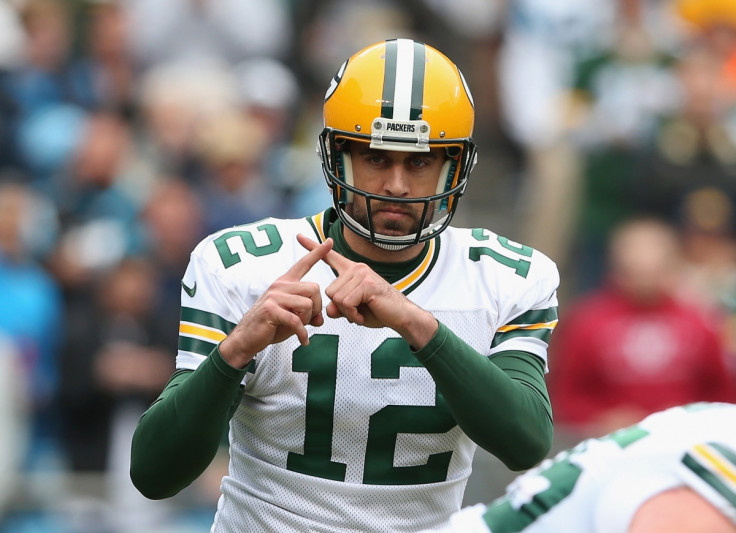 National Football League quarterback Aaron Rodgers called out a fan who screamed "Muslims suck" during a moment of silence for the victims of the Paris attacks before the Green Bay Packers vs Detroit Lions game on 15 November. Rodgers, who plays for the Packers, called the comment a "kind of prejudicial ideology" during his post-game press conference.
Like NFL teams around the US, the Packers and Lions held a moment of silence before their game at Lambeau Field in Green Bay, Wisconsin for the victims of the terrorists attacks on 13 November. However, a fan decided to shout "Muslims suck!" during the moment of silence and it clearly echoed throughout the stadium and to the millions of homes watching the game on the FOX broadcast.
The moment, which can be heard at 1.08 in this video, was uploaded by the American football league to their official YouTube account as part of a league-wide compilation of the moments of silence held on Sunday (15 November). Rodgers later addressed the fan's comment following his team's 18-16 loss.
"I must admit though, I was very disappointed with whoever the fan was who made a comment, that I thought was really inappropriate, during the moment of silence. It's that kind of prejudicial ideology that I think puts us in the position we're in today as a world," the quarterback said. According to ESPN, when asked what he heard the fan shout, Rodgers declined to say. "That's all I'm going to say about that," he added.
Rodgers's comments were applauded by many in the sports media and by fans on social media. USA Today's Nancy Armour wrote: "Rodgers may have struggled during Sunday's game, an 18-16 loss to the Detroit Lions. But he was at his best and most accurate afterwards." Fans online echoed the sentiment. "Cheers to @AaronRodgers12 for keeping things in perspective following a tough loss and denouncing the bigot at Lambeau Field yesterday," tweeted Dillion James.