Anti-Muslim 'Global Rally for Humanity' protests scheduled across the US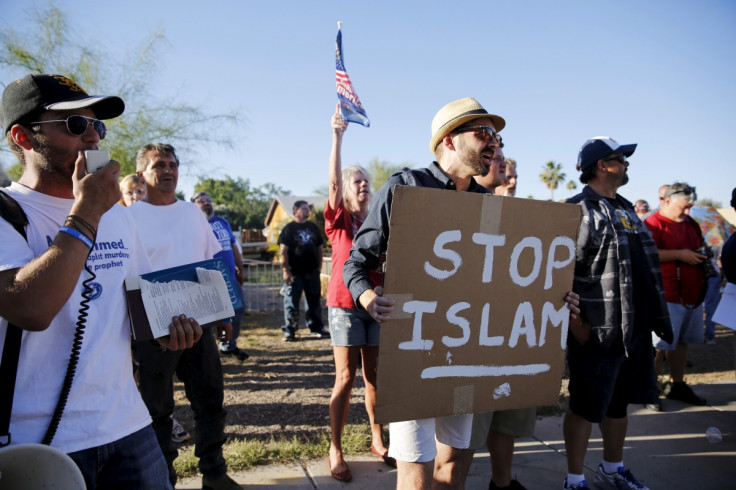 An anti-Muslim group is rallying up their forces of "patriots" to hold protests in front of mosques across several US cities in October. The group, organizing under the event name "Global Rally for Humanity," has scheduled events in at least 20 locations for 9 and 10 October.
"Humanity is attacked daily by radical Islam," the group claims in its Facebook page. "Protests will be held in every country at every Mosque." The group also claims to have followers and events across several countries, including Australia, England, Canada and Germany.
In a 12 August post, the anti-Islam group explains how to set up an event page for demonstrations. "This is how fellow patriots in your area can get in touch with one another. And if there is not an event page set up for your area yet then its time for you to take the initiative and start a page and invite patriots and share it. Remember to do your homework and find a local mosque in your area so you can publish the location," the hate group wrote.
According to Imagine2050, which first reported on the upcoming rallies, some city organizers have urged participants to not bring weapons to the rallies, but others have urged demonstrators to exercise "ALL of your Constitutional Rights." Several of the event pages state, "We're all rallying up in OPEN CARRY STATES in support of local law enforcement and against anti-American TERRORISM both foreign and domestic."
Some of the Global Rally for Humanity events have been scheduled for 10 October to coincide with the Justice or Else Million Man March 20th Anniversary in Washington DC, Imagine2050 noted. The march is being headlined by Louis Farrakhan from the Nation of Islam. Organisers are using the march to justify the protests at or near mosques and community centres that are not affiliated with the Nation of Islam or even the march itself.
"October 10th, radical Imam Farrakhan and the Nation of Islam will be in DC preaching their anti-American hate," the Murfreesboro, Tennessee event page wrote. "We've got about 3000 patriots going to DC to defend old glory, but those of us who can't make it to DC are rally up locally, at a mosque funded by American taxpayers against our will. Murfreesboro, TN. Time to let our voices be heard, Islamists are NOT going to destroy America!!"
Imagine2050 reported that organizers are also using the Iran nuclear deal and refugee resettlement as reasons for the protests.
© Copyright IBTimes 2023. All rights reserved.