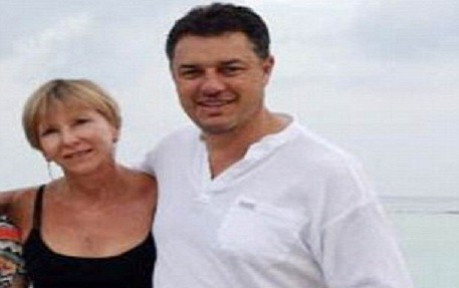 This is the successful City worker who threw himself to his death from the top of the exclusive Coq d'Argent restaurant in central London, less than a month after this picture was taken.
Smiling Nico Lambrechts, 46, posed for the holiday snap just three weeks before his apparent suicide from the top of the luxurious alfresco restaurant in the heart of the City of London.
Lambrechts died on the atrium floor of No 1 Poultry from injuries sustained after plunging 80ft.
After leaving his office at Investec Asset Management nearby, Lambrechts walked to the building housing the exclusive restaurant owned by Sir Terence Conran, took an elevator from ground level and then jumped off the terrace.
Lambrechts leaves a wife, Adele, and three children in a £2m house in Surrey.
City of London Police said they were not treating Lambrecht's death as suspicious. An inquest was opened and immediately adjourned at the City of London Coroner's Court.
Lambrecht's death was the third apparent suicide in the area in recent weeks.
Businesswoman Rema Begum, 29, fell to her death from the rooftop restaurant after putting her bag down and taking a final swig of wine.
A security guard at the Willis Building in nearby Lime Street died after falling 24 floors in September.
The Coq d'Argent has witnessed a total of four deaths from its roof.
In 2009, Anjool Malde, 24, threw himself to his death with a glass of champagne in his hand, after being suspended by Deutsche Bank for a prank. Two years before that, City worker Richard Ford, 33, was killed after falling from the roof and on to the roof of a bus.