Nike has announced the second generation of its FuelBand personal fitness tracker, adding sleep monitoring and a range of new colours.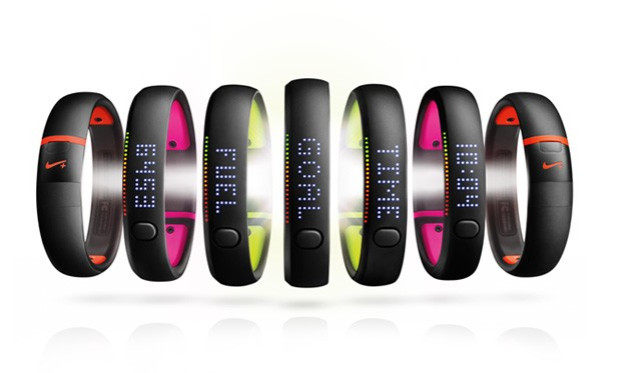 Called the Nike+ Fuelband SE, the updated wrist-worn tracker now also gives hourly movement updates and can distinguish between the types of exercise its user is doing including cycling and rowing, as well as walking and running.
The new model is still matt black on the outside, but is now available with three new highlight colours - pink, green and red - covering the inside and external Nike logo.
The device's improved exercise detection can also be used to monitor sleep patterns, and can now identify - and ignore - unintended actions, or movements used to game the system.
Booming wearables
Nike's new FuelBand comes shortly after the announcement of the Force from rival fitness band manufacturer Fitbit. Both devices will look to capitalise on the booming wearable technology industry; such trackers are contributing to an uptake in the 'quantified self' movement, where our daily lives can be recorded, saved and shared in more detail than ever before.
Using Bluetooth 4.0, the Fuelband SE connects to the accompanying Nike+ Running App. Still an exclusive to iOS, the app has been updated to show a new curve graph encouraging users to move every hour - users must move for at least five minutes every hour to complete their goal.
You can "win the hour" by performing enough movement during the 60-minute timeframe. Days are broken up to show which hours were 'won', and thus your target was met, while hours can be further dissected to show minutes of more intense activity. These exercise sessions can be named and shared with friends.
Fellow Fuelband wearers can be added to social groups, within which you can share achievements and work together towards a common group goal.
This year's model uses the same LED display as the original FuelBand, displaying 'Fuel' earnt by the wearer through movement; daily movement is logged to the companion iOS app - or through the Nike+ website for users of Android and other mobile platforms, and can be logged to monitor long term fitness gains.
Fuel Rate
New for the 2013 model is Fuel Rate, which tracks the rate at which a user is earning Fuel. Measured as Fuel earned per minute, the number is displayed in real time on the band's display and can be used a way to quickly judge the intensity of a workout.
Stefan Olander, vice president of Digital Sport at Nike, said: "We continue to innovate around the Nike+ ecosystem to deliver the very best experiences for our consumers, motivating and inspiring athletes at all levels."
Nike+ FuelBand SE will be available from 6 November in the US, UK, Canada, France, Germany and Japan, priced at $149 (£95, although UK-specific price is not yet known).