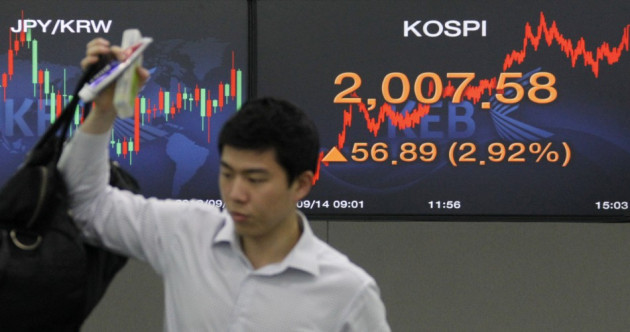 Asian markets outside Japan have ended moderately higher ahead of Chinese economic data expected over the weekend after the better-than-expected US jobless claims numbers
The Shanghai Composite Index was up 0.10 percent or 2.06 points to 2104.93 while the Hang Seng ended 0.65 percent or 137.38 points higher at 21136.43.
South Korea's KOSPI gained 0.01 percent or 0.17 points at 1933.26 after the country's central bank eased its benchmark interest rates. Japan's Nikkei average dropped 0.15 percent or 12.66 points to 8534.12.
India's Bombay Stock Exchange traded 0.43 percent or 80.05 points lower at 18724.70 at 09:24 GMT.
"It's been a fairly positive end to the week in Asian trading as on the whole equities managed to finish Friday in positive territory around the region," said Jason Hughes, Head of Premium Client Management at IG Markets.
However, investors remained cautious of Chinese trade data, followed by inflation data in the coming week. A poll by Dow Jones news wires had shown that China's September trade surplus is expected to ease moderately from the previous month.
Markets had earlier found encouragement from the US after the country's labour department said that weekly jobless claims had seen a 30,000 drop in the previous week.
Eurozone concerns too weighed on market sentiments as the International Monetary Fund (IMF) said that crisis-stricken European countries such as Greece and Spain should be given more time to manage their finances.
Meanwhile, officials from China and Japan have agreed to hold bilateral talks over the disputed Senkaku islands. Reports suggest that the US also intends diplomatic intervention in the issue as US Deputy Secretary William Burns is expected to hold talks with Chinese and Japanese officials next week.
Mobile service provider Softbank Corp fell 16.87 percent in Tokyo following media reports that the firm planned to invest in US telecom company Sprint Nextel in a bid to enter the world's largest economy.
Retailer Fast Retailing also dropped 9.94 percent after the company posted earnings that failed to meet expectations.
Electronic firms gained as Sharp was higher by 4.79 percent, while shares of Pioneer rose 4.40 percent. Canon was up 2.25 percent.
Shares of Samsung Electronics ended lower by 0.61 percent in Seoul even after a US appeals court overturned the ban on its Galaxy Nexus phones.
Financial firms ended in the green in Hong Kong. Industrial and Commercial Bank of China was up 1.43 percent while Bank of China rose 0.99 percent. Agricultural Bank of China was up 1.26 percent. ZTE dropped 4.27 percent as the company's issues with the US government threaten to expand to other countries.
Media company Shanghai Xinhua Media and plastic pipe maker Anhui Guotong Hi-Tech Pipes Industry Company were the best performers in China, higher by 10.07 percent and 10.05 percent.
Software giant Infosys fell the most in India by 5.74 percent after posting weaker than expected earnings and cutting its revenue outlook for the fiscal year.