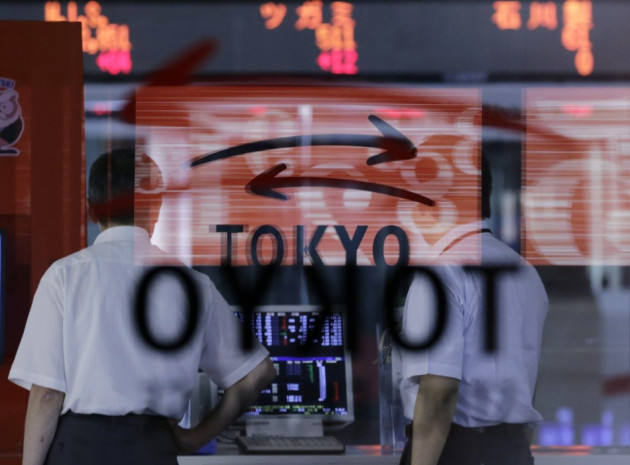 Asian markets, except Shanghai, have closed in the red, on concerns over US corporate earnings and the International Monetary Fund's warnings that the European crisis could further affect the world economy.
Japan's Nikkei 225 dropped to the lowest level in two months, sliding 1.98 percent or 173.36 points to 8596.23 points. South Korea's KOSPI was down 1.56 percent or 30.82 points to 1948.22.
Hong Kong's Hang Seng dropped 0.08 percent or 17.68 points to 20919.60. India's Bombay Stock Exchange index was down 0.71 percent or 134.27 points to 18659.09 at 08:59 GMT.
The Shanghai Composite Index reversed early losses to end higher by 0.22 percent or 4.71 points to 2119.94.
Investors were cautious ahead of the corporate earnings season which unofficially started this week. Major companies such as Hewlett Packard, Caterpillar and Fedex have suggested weak earnings, following slowing demand in Europe and China.
Reuters reported, based on its survey that analysts expect a 2.3 percent year on year drop in the quarterly earnings of S&P 500 companies.
Concerns increased after the IMF said in its semi-annual analysis of the global economy that the eurozone debt crisis remains a major threat to the global financial situations and that the risks had amplified over the past six months.
The Fund urged eurozone countries to take more measures to strengthen the financial institutions in the region to aid the ailing economy.
"Despite many important steps already taken by policymakers, this agenda remains critically incomplete, exposing the euro area to a downward spiral of capital flight, breakup fears and economic decline," the IMF said in its Global Financial Stability Report (GFSR).
Major Movers
Automobile majors fell in Tokyo on concerns of declining China sales and a strengthening yen. Toyota was down 1.90 percent while Honda and Isuzu fell 1.14 and 1.81 percent respectively.
Technology firms were also down. Ricoh tumbled 5.49 percent while Sony fell 1.86 percent. Canon shed 2.47 percent.
Financial firms performed the worst in South Korea. Seoul Mutual Savings Bank dropped 50.82 percent while Jinheung Savings Bank fell 42.31 percent.
Footwear retailer Belle International Holdings which fell 2.14 percent and food products manufacturer Want Want China Holdings were the major losers in Hong Kong.
Automobile companies gained in Shanghai. Yangzhou Yaxing Motor Coach was up 10.09 percent, while Shenyang Jinbei Automotive gained 9.96 percent. Dongfeng Automobile was up 3.96 percent while Anhui Jianghuai Automobile rose 0.94 percent.
Utility related firms were down in India. Bharat Heavy Electricals and Tata Power performed worst, falling 2.18 and 1.90 percent respectively.