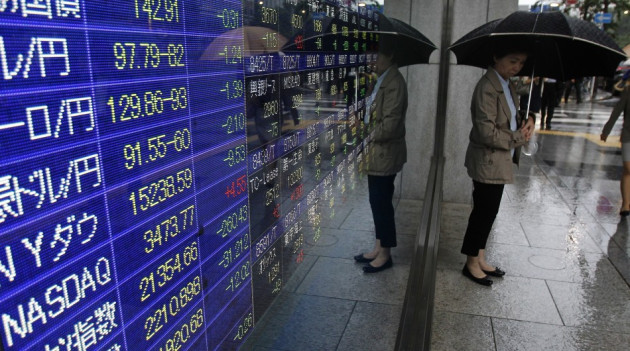 Asian markets outside Hong Kong opened lower, but gained thereafter, as caution prevailed across the region ahead of the US Federal Reserve's two-day meet beginning on 18 June, which could provide clarity on the future of the Fed's asset buys.
The Nikkei led the pack with a 2.10% increase or 284.90 points to 12971.42.
The Hang Seng moved up 1.18% or 246.90 points to 21216.04.
The Shanghai Composite was trading flat, up 0.03% or 0.71 points higher, to 2162.75 after China's finance ministry was unsuccessful in selling all the debt offered at an auction for the first time in almost two years. A cash crunch threatens to aggravate the slowdown in the world's second-largest economy.
Australia's S&P/ASX inched up 0.22% or 10.70 points to 4802.50. Investors exercised caution ahead of the release of the minutes from the Reserve Bank of Australia's June meeting on 18 June. The minutes could provide hints to the future direction of interest rates in the country.
South Korea's Kospi was down 0.50% or 9.46 points to 1879.78. Uncertainty prevails over the fate of the reopening of the Kaesong industrial complex closed down earlier this year.
On 16 June, North Korea said it was willing to hold talks with the US to defuse rising tensions in the Korean peninsula. Talks between North Korea and South Korea, scheduled for 12 June, were put on hold after the two sides were unable to agree on the composition of their delegations.
On Wall Street, stocks closed lower in the week ending 14 June, pulled down by the uncertainty that surrounds the Federal Reserve's quantitative easing programme.
Fed chairman Ben Bernanke is due to speak on 19 June at the end of a two-day Fed meeting, and investors expect him to shed more light on the future pace of the Fed's $85bn a month bond-buying programme that has stimulated markets the world over for a while now.
In Tokyo, Japan Tobacco and Taiheiyo Cement jumped 5% each. Tyre manufacturer Bridgestone's stock moved up 3.6% while drug maker Eisai's stock added 3.1%.
Realty stocks were trading lower. Tokyo Tatemono dropped 4.7%. Sumitomo Realty & Development lost 3.8% while Tokyo Land was down 3.6%.
In Shanghai, New China Life Insurance and Everbright Bank added 3% and 2% respectively after state-owned financial investment company Central Huijin increased its stake in both firms.
In Sydney, shares of realty firm Lend Lease, Australia's biggest property developer, slumped over 8% after the company informed investors that weaker construction activity over the last six months would weigh on its earnings for the 2013 financial year. The group also announced a restructuring of its Australian construction and infrastructure business.
Macquarie Group and Australia and New Zealand Banking Group gained 2%.
Mining stocks were down despite a rise in iron ore prices to $113.60 a ton. BHP Billiton's stock fell 1.4% while Anglo-Australian miner Rio Tinto's stock dropped 1.7%. Rare-earth miner Lynas dropped 8.5% while nickel producer Panoramic Resources was down 5.4%.
In Seoul, a stronger yen helped exporters' stocks. Automobile manufacturer Hyundai Motor shot up 2% while smaller rival Kia Motors added 0.5%.
In Hong Kong, realty stocks were trading higher with Cheung Kong Holdings gaining 2.7% after it announced plans to form a joint venture to buy Dutch waste-processing firm RAV Water Treatment I B V for €943.68m ($1.26bn). China Resources Land added 3.8%.
Energy stocks gained after US crude oil futures shot up on 14 June. Cnooc added 3.4% while PetroChina gained 1.9%
Shares of Industrial and Commercial Bank of China dropped 5.1% after they began trading without rights to a dividend.