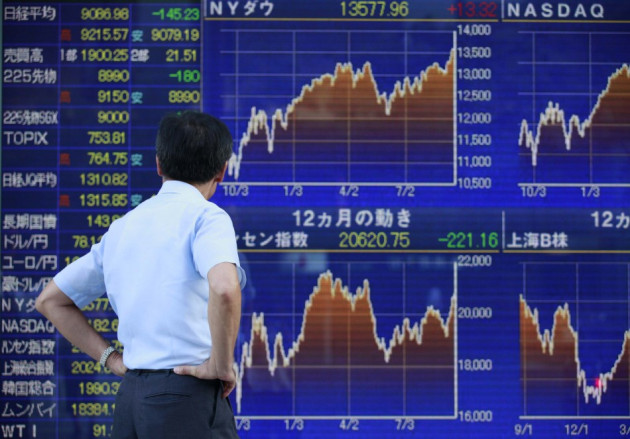 Asian markets have ended mixed as China's lower inflation rates suggested more room for monetary easing measures and the eurozone crisis threatens to further impact the global economy.
The Nikkei 225 average ended 0.51 percent or 43.81 points higher at 8577.93 on better performance from automobile and machinery stocks. The South Korean KOSPI fell 0.40 percent or 7.67 points to 1925.59.
China's Shanghai Composite Index was down 0.30 percent or 6.23 points to 2098.70. Hong Kong's Hang Seng rose 0.09 percent or 18.92 points to 21155.35.
India's Bombay Stock Exchange was up 0.15 percent or 28.12 points to 18703.30 at 10:05 GMT.
Investors are awaiting the European Union summit in Brussels scheduled for later this week, as issues regarding the Spanish and Greek economies continue to persist.
Reuters reported, citing eurozone sources, that Spain might ask for delayed international aid in November. However, investors remained cautious as uncertainties continued on the issue.
Traders in Tokyo were encouraged after China, Japan's biggest export market, reported a decline in inflation, giving room to policymakers to consider more monetary steps to support the country's economy.
Consumer September inflation in China dropped to 1.9 percent year on year from 2 percent in the previous month. Earlier, the country had announced a 9.9 percent jump in exports in September, suggesting that the country's monetary easing measures were paying off.
Japanese exporters, especially automobile firms, gained. Toyota was up 2.08 percent while Honda gained 3.89 percent. Nissan was up 1.35 as the company's chief executive indicated that its Chinese sales are picking up.
Electronic components manufacturer, Renesas Electronics, was up 14.39 percent following reports that the embattled company may be bailed out by a private-public consortium.
Mobile carrier Softbank suffered major losses as investors remained unconvinced about the company's plans to acquire the US telecom firm Sprint Nextel.
Automobile majors fell in South Korea. Hyundai was down 1.93 percent, while Kia Motors dropped 1.87 percent.
The property sector gained in Hong Kong. Henderson Land Development Company was up 2.47 percent, while Hang Lung Properties and Sun Hung Kai Properties gained 0.77 and 0.74 percent. Sino Land rose 0.72 percent.
Footwear retailer Belle International fell 4.26 percent after same store sales of the company fell 2.8 percent year on year in the third quarter.
Technology firm ZTE was down 15.79 percent and 5.69 percent and Hong Kong and Shenzhen, following reports that the company's third quarter earnings may decline due to delays in international projects.
Metal related stocks fell in Shanghai. Aluminum Corp of China was down 1.57 percent while Jiangxi Copper lost 1.72 percent.
In India, aluminium maker Hindalco Industries, which gained 1.69 percent and pharmaceutical firm Cipla which was up 1.25 percent, were the major gainers.