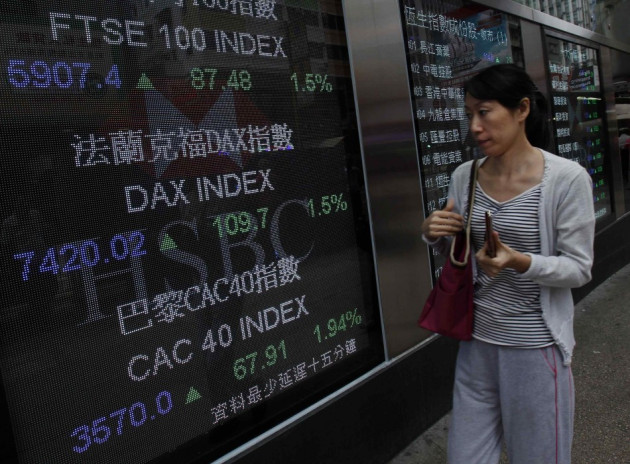 Asian markets barring South Korea continued gains as traders await more encouraging US economic data and the European Central Bank's interest rate review.
Investors remained positive even though the eurozone crisis threatened to deepen as Spain delays its bailout package and Greece's negotiations with international lenders for aid continue.
Japan's Nikkei ended 0.89 percent or 77.72 points higher at 8824.59 while Hong Kong's Hang Seng gained 0.09 percent or 19.67 points at 20907.95. Markets in mainland China remained closed for public holidays.
South Korea's KOSPI slid 0.17 percent or 3.35 points to 1992.68. India's Bombay Stock Exchange was up 0.97 percent or 182.87 points to 19052.56 at 09:22 GMT.
Major automobile firms continued to rise in Japan. Toyota Motor was up 3.00 percent while Honda Motor and Nissan Motor gained 3.14 and 5.11 percent respectively.
Technology sector stocks fell following reports of lower 2013 earnings forecast from Hewlett Packard. Nikon Corp was down 3.60 percent while Konica Minolta Holdings and Sharp fell 3.53 and 3.19 percent. Shares of Canon also dropped 2.15 percent.
Markets will keep an eye on Japan's central bank as it meets later this week for a review of its interest rate after recent reports of declining business sentiments in the country.
In Hong Kong, lifestyle brand Espirit Holdings gained 6.20 percent, followed by China Resources Enterprise which gained 3.21 percent.
Steel producer Daiyang Metal and tyre manufacturer Hankook Tire fell the most in South Korea by 12.96 and 8.50 percent. Shares of Samsung Electronics were down 0.15 percent after the company called for a retrial of the recent patent dispute with Apple in the US earlier this week.
Banking sector scrips was up in India. Major lenders ICICI Bank and HDFC Bank were up 3.24 and 1.61 percent while the state-owned State Bank of India rose 1.60 percent.
Traders are looking for encouraging signs in the upcoming initial jobless claims and factory orders data from the US following the better than expected service sector PMI and nonfarm employment numbers.
The minutes of the US Federal Reserve's September 12-13 meetings announcing a massive financial package are expected to be released soon as well. Investors will also keep a close watch on the monthly payroll and unemployment data in the world's largest economy to be released later this week.
European Central Bank policy makers will meet later in the day for a review of interest rates. Analysts expect the rate to remain unchanged at 0.75 percent.