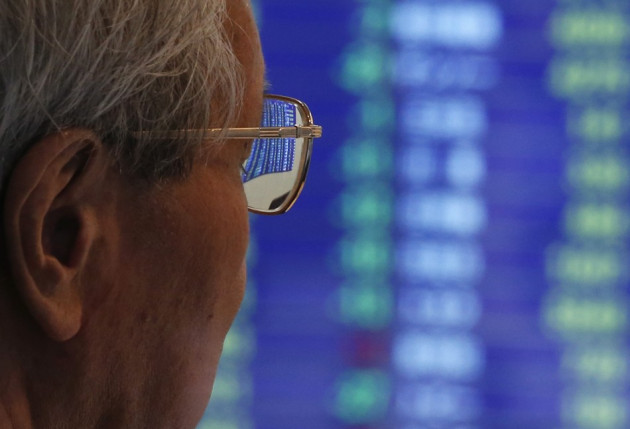 Asian markets outside Korea leaped higher in early trading after the European Central Bank and the Bank of England decided to keep interest rates at a record low.
However, gains were capped are investors await crucial US labour market data, later in the day.
The Japanese Nikkei was up 1.70% or 238.04 points to 14,256.97, touching a five-week high.
The Hang Seng was up 1.82% or 371.85 points to 20,840.52.
Australia\'s S&P/ASX inched up 0.80% or 38.40 points to 4833.10, a two-week high.
The Shanghai Composite index was up 0.67% or 13.52 points to 2019.61
South Korea\'s Kospi was down 0.26% or 4.84 points to 1,834.30 points.
The ECB decided to keep interest rates at record lows and suggested it could further cut rates, if necessary. The Bank of England cautioned investors that they should not expect higher rates in the near future.
The central bank decisions boosted markets in Europe.
US financial markets were closed on Thursday for the American Independence Day holiday. The government will put out non-farm payrolls data later, which is expected to influence the US Federal Reserve\'s decision on its bond purchases. The Fed has indicated that it could begin trimming its $85bn a month bond-buying programme later this year if the American economy improves. The Fed believes that the US economy will shows significant signs of improvement in the last half of 2013.
In Tokyo, shares of Kobe Steel and ferronickel producer Sumco gained over 6% each.
Hitachi jumped 4.4%, Mitsubishi Electric gained 3.5%, while Fast Retailing added 3.1%
Consumer electronics firm Panasonic moved up 3% on news that it proposes to shut down a European solar-cell plant as part of its restructuring strategy.
In Hong Kong, state-owned coal miner China Shenhua Energy shot up 6.7%. Bank of East Asia gained 2.6%, while realty firm China Overseas Land and Investment moved up 2.5%.
Casino operator Macau Legend Development gained on its first day of trading. The stock rose to 2.43 Hong Kong dollars (31.2 US cents), up from its IPO price of HK$2.35.
In Shanghai, realty firm Merchants Property surged 7% while rival Poly Real Estate shot up 6%. Everbright Bank and Bank of Nanjing inched up 0.5%.
In Sydney, casino operator Crown shot up 4% on news that it received a conditional approval for a VIP gaming room at its luxury hotel. Rival Echo Entertainment dropped 4% on the news.
Iron ore miner Fortescue Metals added 2.9%, BHP Billiton gained 1.3% and Anglo-Australian miner Rio Tinto inched up 0.8%.
In Seoul, index heavyweight Samsung Electronics dropped 4% on news that it expects profit to increase 47% in the second quarter, which is lower than market forecasts.
KB Financial Group moved up 2.2%. Shares of both Kia Motors and Hyundai Merchant Marine gained 2% each.
Memory-chip maker LG Display lost 2%, while consumer electronics maker LG Electronics shed 1%.