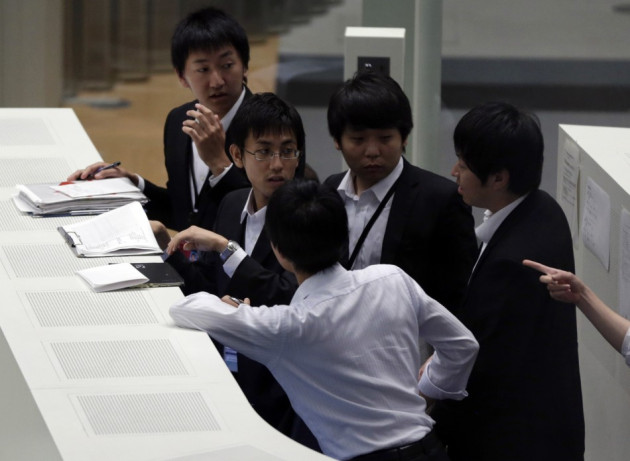 A majority of Asian markets were down on Wednesday, while Chinese stocks hit a 2013 low, as the uncertainty of how the US Federal Reserve will proceed on stimulating the US economy prevailed on the markets
Speculation about the future pace of the US Federal Reserve's massive monthly global asset buys, which have stimulated the markets the world over for a while now, has wrecked havoc on global markets for weeks now.
The Japanese Nikkei was trading 1.02% higher or 133.24 points to 13140.52, supported by a rally on Wall Street, the weaker yen and stronger export numbers for May.
Hong Kong's Hang Seng was down 1.33% or 282.38 points to 20943.50.
The Shanghai Composite was down 1.5% or 32.30 points to 2126.99, pulled down by realty and brokerage stocks. The vice chairman of the China Securities Regulatory Commission reportedly told brokerage executives on 18 June that IPOs were expected to hit the markets by end July. Chinese regulators had prohibited listings last October to rid the stock markets of corruption.
Realty stocks lost out on Tuesday's government data that showed home prices in a large number of Chinese cities rose in May. Policymakers could revisit monetary policies, aimed at stimulating the markets, amid rising prices.
South Korea's Kospi was down 0.80% or 15.03 points to 1885.59 points.
Australia's S&P/ASX added 0.70% or 33.50 points to 4847.90, supported by a weaker Australian dollar.
The US Federal Reserve's Federal Open Market Committee (FOMC) will end its two-day meet later in the day and Fed chief Ben Bernanke is due to speak after the meet.
"We expect this nervousness to continue to dominate until the FOMC rate decision and Chairman [Ben] Bernanke's press conference on Wednesday, with asset prices remaining vulnerable to news headlines, keeping the volatility elevated," Barclays analysts wrote to clients on 18 June.
On 18 June, Wall Street ended higher as the FOMC kicked-off its two day meet. The Dow rallied 138.38 points to finish at 15,318.23, another triple-digit gain. The S&P 500 inched up 12.77 points to close at 1,651.81 while the Nasdaq moved up 30.05 points to end at 3,482.18.
In Tokyo, shares of shipping major Kawasaki Kisen Kaisha shot up 9% while rival Nippon Yusen's stock jumped 5%. Mitsui OSK Lines gained 2%.
Steel producer JFE Holdings' stock jumped 4.5%. The Sumitomo Mitsui Financial Group's stock gained 4.1%. Chemicals manufacturer Tokyuama shot up 6% while video game major Nintendo's stock gained 5%.
In Sydney, shares of coal miner White Energy's stock zoomed 18% while Mirabela Nickel's stock shot up 8%.
Shares of media giant News Corp, the publisher of the Wall Street Journal, tanked 8.5% following the spin-off of its publishing division. New Newscorp will now hold the publishing assets.
The voting shares of New Newscorp, which commenced trading for the very first time, were down 45 Australian cents at A$14.55 ($13.82) in heavy trade.
Whitehaven Coal moved up 4%, following a rally earlier in the day, on news that Australian mining tycoon Nathan Tinkler gave up about half his stake in the company.
Shares of casino operator Echo Entertainment gained 2% on news that Malaysian firm Genting has increased its stake in the firm.
In Hong Kong, index heavyweight HSBC Holdings shed 0.6% after the Hong Kong Monetary Authority said on 18 June that HSBC figures in the list of banks being investigated for probable rigging of local benchmark interest rates.
China Coal Energy's stock dropped 3%. State-owned telecoms firm China Unicom Hong Kong's stock was down 2.3%. China Construction shed 1.6%
In Shanghai, Hong Yuan Securities dropped 6%. China Citic Bank's stock fell 2%, while Citic Securities lost 1.6%. China Life Insurance dropped 1.5%.
Realty firm China Vanke lost 3%, rival Poly Real Estate dropped over 2% and China Merchants Property shed1%.
In Seoul, shares of both LG Electronics and Samsung Electronics lost 1%
Gold miner's stock dropped in Hong Kong, Shanghai and Sydney after the yellow metal's futures dropped in the US in the midst of the uncertainty related to the Fed's monetary stimulus program.
Zhaojin Mining Industry dropped 2.9% in Hong Kong, Zijin Mining Group fell 2.4% in Shanghai while Newcrest Mining was down 0.5% in Sydney.