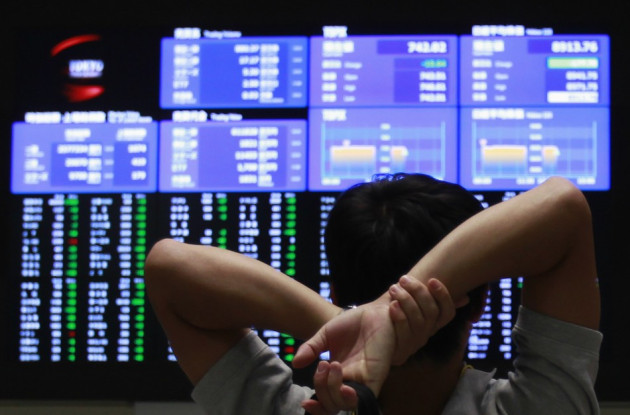 Asian markets steadied on signs of economic revival in the US, as investors hope for further positive data from the world's largest economy to offset concerns over the eurozone debt crisis.
The US service sector purchasing managers index (PMI) showed an unexpected growth while nonfarm employment fell less than expected. Investors are expected to keep an eye on the upcoming initial jobless claims and factory orders for August.
The country had also seen an increase in new car sales in September, raising hopes of recovery in the sector.
"Just when we thought the US economy's revival was dead and buried it sparks into life again with data hinting at a recovery," said Justin Harper, market strategist at IG Markets.
"Although it is still early days, this week traders have seen more positive numbers out of the world's largest economy that suggest it could be turning a corner at last, a momentum it would hope to continue with the impact of QE3."
The Nikkei gained 0.62 percent or 53.89 points at 8800.76 at 04:03 GMT. Hong Kong's Hang Seng gained 0.05 percent or 11.34 points at 20899.62. South Korea's KOSPI eased 0.33 percent or 6.50 points at 1989.53. Markets in China remain closed for holidays this week.
Shares of Japanese exporters were up after the US dollar strengthened against the yen.
The automobile sector shed the previous day's losses as Nissan Motor gained 4.33 percent, Toyota Motor rose 3.00 percent and Honda Motors climbed 3.01 percent. Heavy vehicles manufacturer Isuzu also gained 4.28 percent.
Shares of the telecom firm KDDI were up 0.69 percent following reports that the company is in talks with Apple to sell the soon to be released mini-Ipad.
Energy sector firms were on the lower side. JX Holdings fell 1.81 percent while Inpex lost 0.95 percent.
Lifestyle brand Espirit Holdings continued gains in Hong Kong, rising 4.24 percent, followed by property developer New World Development, which gained 2.96 percent.
Steelmaker Daiyang Metal and tyre manufacturer Hankook Tire were the major losers in South Korea.
Concerns over the eurozone continue to weigh on investor sentiments as Spain chose to delay its bailout package to control its deepening financial crisis. International Monetary Fund chief Christine Lagarde, in a newspaper interview, promised to help Spain in a number of ways if the country required it.
Greece is still in focus as the country continues to negotiate terms for a bailout package with promises of stronger austerity measures.
Market players remain further cautious as policy makers from the Eurpean Central Bank meet later in the day to review the interest rate. However, analysts expect the central bank to keep the rate unchanged, following the recent monetary easing policies announced.