A nine-year-old boy from Fife has become the youngest person in the UK to be fitted with a "bionic" hand having previously being bullied over his disability. Josh Cathcart received almost daily torments from classmates because he was born with his right arm missing from the elbow down.
However, Josh has now had his "awesome" new artificial hand fitted and has spent the past few days practising tasks he previously could not manage. He told the Pres Association: "It feels quite heavy. I can stick my thumb up. I can make a pinch grip, I can get a grip for cutting with a knife. I made myself a bagel yesterday. I can open bottles and packets with it, I can stack up blocks, I can build Lego with it and I can pull my trousers up."
His parents, Clare and James Cathcart, began thinking about giving Josh the bionic arm as he started to become increasingly distant at school. They contacted Livingston-based company Touch Bionics, which showed the family the the i-limb Quantum, a smaller version of the company's prosthetic hand which can be controlled through a mobile phone app.
Mrs Cathcart said: "Josh had been getting picked on and became quite withdrawn and upset, so we started looking for something a bit more advanced, something that moved. So, we had chats with him and then went on the internet and came across this company.
"He was born missing a hand. At first, I didn't really give it much thought to it, but as time went on I blamed myself for it." She added: "It gives him his independence, so he can now make his own food and tidy his own room."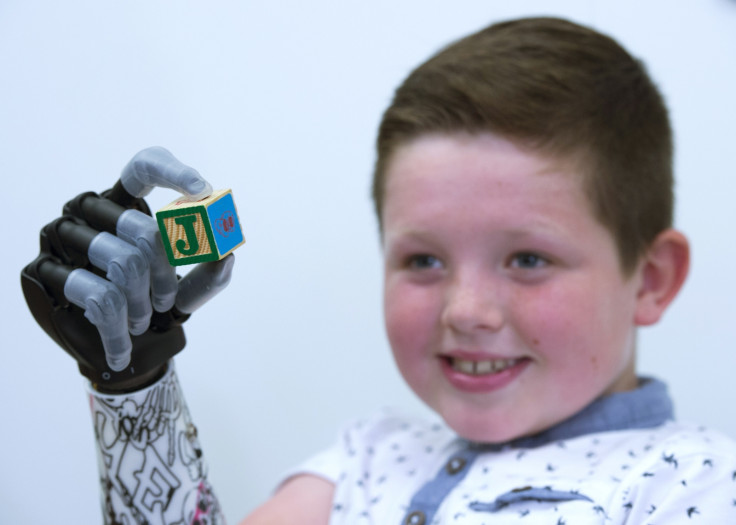 Alison Goodwin, prosthetist at Touch Bionics, said: "Josh has spent this week with us being fitted with the Touch Bionics i-limb quantum prosthesis. He's the youngest we've fitted so far because of the extra-small hand that we now have available, so it's been great to now have the experience this week of fitting the youngest-ever person with the i-limb hand."
She added: "He's taken to it really positively this week, and he's looking forward to being able to integrate it into his daily life so he's really motivated to learn and use it day-to-day, so that's really helped the learning process because he is actually so positive and so motivated."