Nokia has announced the Lumia 920 smartphone, with a 4.5in screen, an 8.7-megapixel PureView camera, augmented reality maps and Windows Phone 8.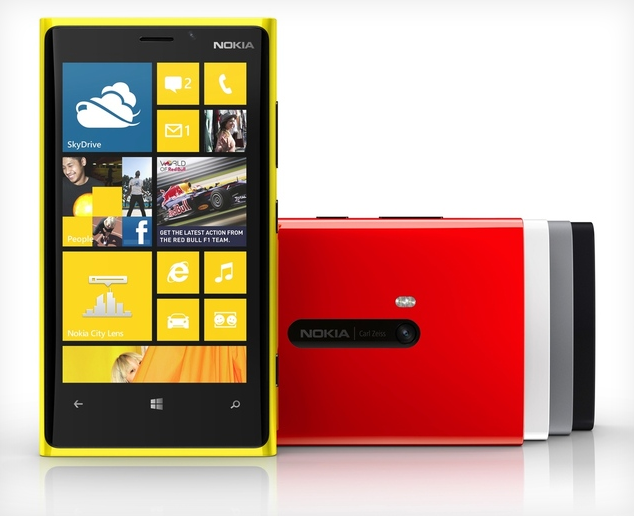 The Finnish phone maker took to the stage in New York to announce the new flagship smartphone, which features a PureView camera that, while not offering the 41-megapixel sensor of the PureView 808, claims to be the best camera of any smartphone to date.
The Nokia Lumia 920 is powered by a 1.5GHz dual-core SnapDragon processor from Qualcomm and 1GB of RAM, has a 4.5in 1280 x 768 screen covered with slightly curved glass and will come in yellow, red, white, grey, and black.
As for storage, there is 32GB available, plus a further 7GB of free SkyDrive storage online.
The PureView camera uses 'floating lens' technology and is claimed to produce high quality images in low light situations without using the flash, thanks to being able to capture between five and ten times as much light then other smartphone cameras.
Nokia has not announced any pricing but said the phones would come to market in the final quarter of 2012.
As for video, the Nokia Lumia 920 can capture full 1080p HD video at 30 frames per second, which is claimed to be smoother and more stable than any other smartphone camera - again, thanks to the floating lens tech.
Nokia has taken the impressive PureView camera and used it to offer augmented reality within the Nokia Maps application and as a separate app called City Lens.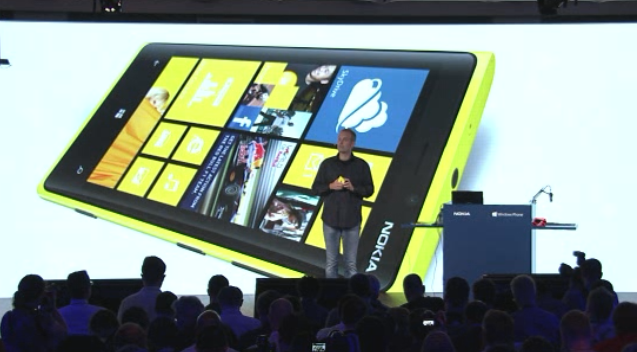 Simply point the Lumia 920 at a street and the names of shops, restaurants and other services will be laid out over the live image you're seeing through the camera. Tap on a shop and more information appears on screen, and from there you can give the shop a call or visit its website.
A really smart feature of the PurView cameras is its ability to remove unwanted objects from the photos you have taken. An example shown on stage was taking a photo in a busy art gallery.
The Lumia 920 takes several photos, processes them and identifies any moving objects, such as people walking in the way. The phone then removes these people and leaves you with a nice clear and empty art gallery - this looks like the kind of feature that works well in a demo, but might prove to be hit-and-miss in reality.
The front-facing camera can take 1.2-megapixel photos and records 720p HD video.
Nokia Maps includes Nokia Drive, a free satellite navigation apps that provides voice commands and turn-by-turn directions.
The Maps app also offers departure times for public transport, directions on how to get to each train station or bus stop, and calculates your estimated journey time using real-time traffic conditions.
This information can also be used to help your daily commute to work - enter your office address and the Lumia 920 will tell you when you should leave the house to ensure you get to work on time, and again real-time traffic conditions are taken into account.
In a move that follows Google, Nokia now offers indoor mapping, so you can find your way to the right platform within a train station.
As for hardware, the Lumia 920 has a 4.5in 'Pure Motion HD+' screen that Nokia claims is better than HD and the best smartphone screen on the market today and up to 25 percent brighter than "the closest rival".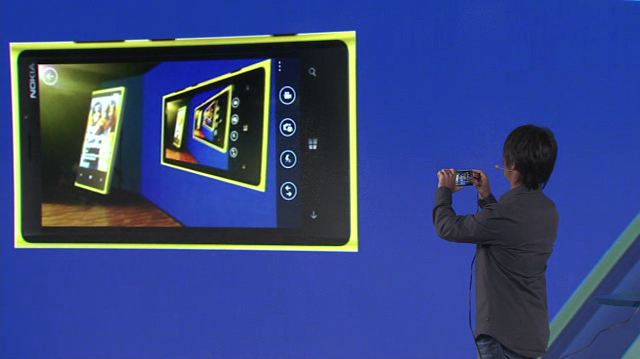 The screen offers a fast refresh rate and is claimed to keep moving content sharp, while reducing screen flicker, and there's also 'super sensitive touch' that means the screen is responsive when you're wearing gloves.
Nokia also announced that the Lumia 920 has wireless charging using the Qi standard, so the phone can be placed on a mat to be charged, rather than having to connected to a cable.
The company revealed that it has partnered with a number of companies to provide wireless charging accessories for the new smartphone, but also with Virgin Atlantic to offer wireless charging at the London Heathrow Clubhouse lounge to top up the 2,000mAh battery.
Nokia showed off a range of wireless charging accessories, including the Nokia Wireless Charging Plate and FatBoy pillows.
A new speaker, the JBL Power Up is a new speaker designed specifically for the Lumia 920, includes NFC and charges the phone by simply resting it ontop of the speakers.
A demonstartion showed music being played on the phone itself - the phone was then tapped against the Power Up speakers and the music began playing automatically through the speakers instead.