North Korea, which is known to mark important events on a grand scale, has already geared up for a big celebration of its late leader Kim Jong-il's 75<sup>th birth anniversary on 16 February. This year's fete began with a three-day long national cooking competition with over 300 participants showing their culinary skills to impress the current leadership.
Pheasant meatball soup and blue cocktails are thought to be two of the more intriguing entries at the contest that was held in the isolated country from 7 to 9 February.
The birthdays of North Korean leaders are generally marked as a national holiday, and Kim's birthday is observed as the "Day of the Shining Star". It is similar to the "Day of the Sun" which is marked as the current leader Kim Jong-un's birthday in April.
A video provided to Reuters by North Korea's official news agency KCNA showed the participants working and presenting various traditional Korean dishes. However, Reuters reported that the video could not be independently verified.
"I've been participating in this contest several times, but I get to learn a lot of things every time I participate. This time, I'm presenting a pheasant meatball soup. The pheasant meat is good for people's health and its meat itself has a sweet taste, so there's no need to add many seasonings. Nothing can defeat a fresh pheasant meat if it is well seasoned with salt," said Pak Hye Ok, one of the participants.
The competition is reportedly the seventh of its kind to be held to mark such events, according to KCNA.
Kim Yong-il, a researcher of the Korean Association of Cooks, who was also one of the judges of the competition, said that such contests help in promoting Pyongyang's cuisine.
"With this cooking contest, we can demonstrate our people's high cooking standards and their effort making these dishes with original recipes. I think this could be an important and meaningful momentum to improve our people's diet," he said.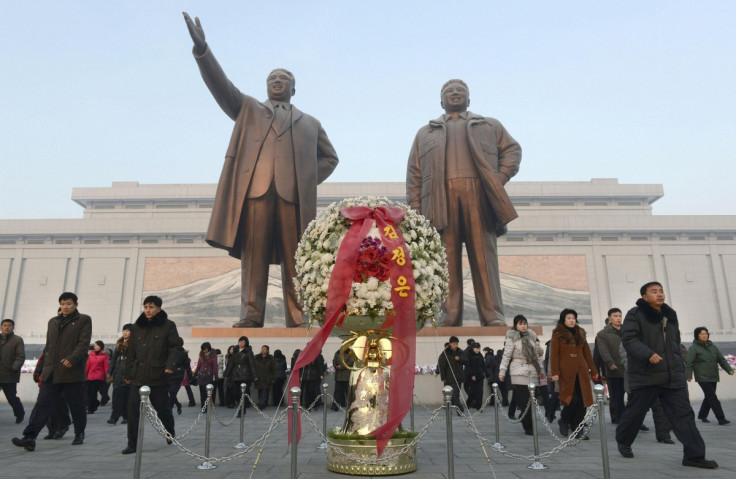 A similar contest was conducted in April last year to mark the current leader's birthday, but it received severe criticism as the country was hit with extreme scarcity of food at that time, leaving several North Koreans to starve.
The late Kim, who was known in the North by a number of names — including the Greatest Leader, Generalissimo and Our Father — ruled the hermit state for over two decades until his death in 2011, with an iron fist. According to Human Rights Watch, Kim was responsible for several human rights violations.
In April, North Korea will mark five years since the current Kim Jong-un took charge as the supreme leader of the country. April will also see the 105<sup>th birth anniversary of Kim's late grandfather. So it has been speculated that the country might be planning something really big around that time as well.