US and Chinese aircraft engage in 'unsafe' encounter over disputed South China Sea
The American plane was 'on a routine mission operating in accordance with international law', US Pacific Command said.
One US Navy patrol plane and a Chinese aircraft reportedly engaged in close and "unsafe" encounter over the disputed South China Sea islands this week. The two planes flew within 1,000 ft of each other in the vicinity of the Scarborough Shoal, the US Pacific Command said on Friday (10 February).
Spokesman Robert Shuford said the "interaction" between a Chinese KJ-200 early warning aircraft and a US Navy P-3C plane took place on Wednesday but he did not reveal what was unsafe about the encounter.
According to him, the US plane was "on a routine mission operating in accordance with international law".
"On Feb. 8, an interaction characterized by U.S. Pacific Command as 'unsafe' occurred in international air space above the South China Sea, between a Chinese KJ-200 aircraft and a U.S. Navy P-3C aircraft," the Pacific Command said in a statement.
However, such incidents are reportedly less frequent, with only two known cases that took place in 2016, Reuters cited an unnamed US official as saying. It was the first such instance since the start of the year.
"The Department of Defense and US Pacific Command are always concerned about unsafe interactions with Chinese military forces," Shuford added. "We will address the issue in appropriate diplomatic and military channels."
The American P-3C aircraft had to alter course to ensure that it did not end up in air collision with the Chinese plane, CNN cited an unidentified US official as saying.
The Chinese KJ-200 is thought to be a propeller airborne early warning and control aircraft that is based originally on the old Soviet-designed An-12, Reuters reported.
In response the encounter, Chinese defence ministry told state media that the Chinese pilot acted in accordance with "legal and professional measures".
"We hope the US side keeps in mind the present condition of relations between the two countries and militaries, adopts practical measures, and eliminates the origin of air and sea mishaps between the two countries," the Global Times cited an official from China's defence ministry as saying.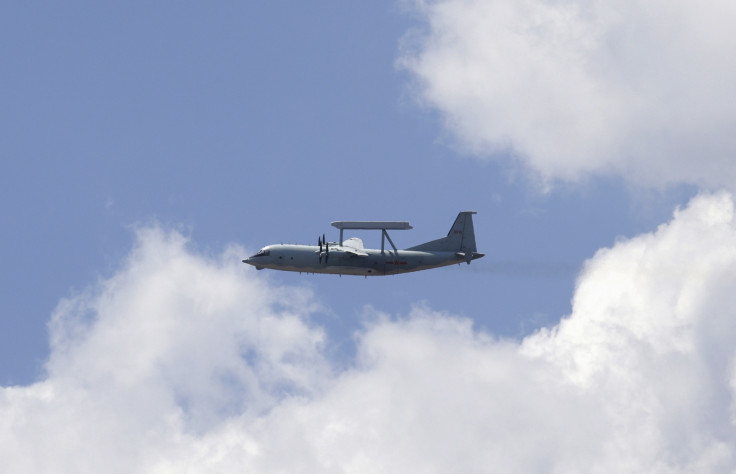 The incident came to light as US President Donald Trump held a telephonic conversation with his Chinese counterpart Xi Jinping underscoring uncertainty in the relationship between the two sides. It was for the first time both the leaders spoke since the Republican secured a historic win in the 8 November elections.
While the US is not a claimant in the territorial dispute over the hotly contested South China Sea, it has insisted on the right to conduct freedom of navigation operations. The communist country has been deeply suspicious of any US military activity in the mineral-rich waterways.
© Copyright IBTimes 2023. All rights reserved.