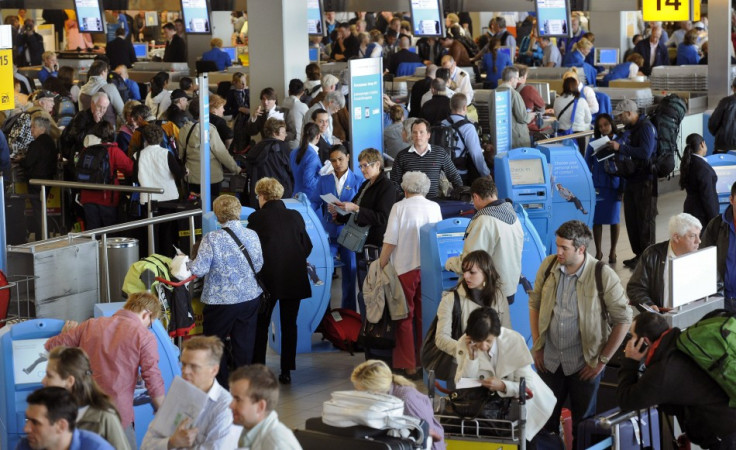 As UK Border Agency staff walk out as part of the November 30 strikes over public sector pension reforms, UK airport passengers look set for a day of troublesome travelling.
The government has said that military personnel could be drafted in to replace civil servants at the UK's borders on Nov. 30.
Airports are urging passengers to have all travel documents ready when they arrive, including passports, and to use the automatic e-passport gates whenever possible.
Some airlines, including BA and BMI, are offering free rebooking of flights for passengers due to be travelling on Nov. 30.
IBTimes UK looks at how six of the UK's busiest airports will be affected.
Heathrow
Heathrow is going to be the UK's worst affected airport, with "likely" delays of up to 12 hours for some passengers.
"The delays at immigration are likely to be so long that passengers could not be safely accommodated within the terminals and would need to be held on arriving aircraft," said Normand Boivin, Heathrow's chief operating officer, in a letter to the airlines.
"This in turn would quickly create gridlock at the airport with no available aircraft parking stands, mass cancellations or departing aircraft and diversions outside the UK for arriving aircraft."
They have asked all airlines operating at its airport to reduce passenger capacity by 50 per cent.
Airport officials are expected to release the latest update on the situation imminently.
Gatwick
Gatwick Airport's Chief Operating Officer, Scott Stanley, has warned of "significant disruption".
They've asked the airlines operating with them to offer passengers the chance to rebook flights from November 30 to the days before or after.
"Hundreds of airport volunteers are planning to come in to provide the support and assistance needed on the day," said Stanley.
"All non-essential work and meetings have been cancelled and all staff and managers will be out in the terminals providing information, refreshments and advice and to make passengers feel as comfortable as is practicable given the challenges we expect to face."
Stansted
Stansted only caters for EU flights, so passport checks are already quicker than at other airports flying to further afield - though there may still be delays due to the strikes.
"Stansted Airport will be open with flights operating as scheduled but, due to public sector strikes affecting immigration staff working for UKBA, passengers arriving into the UK may experience delays at passport control," said a spokesperson for the airport.
"We are working with UKBA and our airlines to ensure any disruption is kept to a minimum."
Manchester
"Around 15,000 passengers are expected to arrive on Wednesday November 30," a spokesperson for Manchester Airport told IBTimes UK.
"We are working closely with our airlines and the UK Border Agency to develop contingency plans for the industrial action including ensuring minimum staffing levels which we are confident will be achieved.
"Unfortunately, this still means that passengers can expect a longer than normal wait at passport control during busy periods, but we do not anticipate significant disruption.
"The industrial action is very unlikely to have any affect on departing passengers.
"We are also advising anyone due to collect arriving passengers on Nov. 30 to monitor flight arrival information so that they are not kept waiting unnecessarily."
Luton
Luton Airport say it's difficult to anticipate how much disruption there will be as they're not sure how many UKBA staff will show up.
However they say arriving passengers "may experience delays", though "impacts on departing flights are expected to be kept to a minimum."
Extra staff offering advice, information and refreshments for delayed passengers are being deployed around the airport.
Edinburgh
"We're anticipating some delays at peak times for non EU passengers arriving at Edinburgh Airport on Wednesday, Nov. 30," said a spokesperson for Edinburgh Airport.
"We are working closely with UKBA on their contingency plans for the strike and formulating our own measures to support passengers as they arrive."