On October 18, Ryanair (UK Code: RYA) bowed to the inevitable and admitted that the weakness of sterling would hurt profits this year.
The airline cut its profit guidance by 5% to between €1.30bn (£1.16bn, $1.42bn) and €1.35bn in the year to March 2017.
This announcement follows an 18% drop in sterling against the euro since 23 June (see Chart 1), and a similar profit warning less than two weeks earlier from chief competitor easyJet (code: EZJ), which warned of a £90m hit to profits from the fall in the British currency.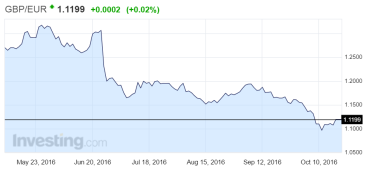 Why should a fall in the value of sterling have such a negative effect on these airlines? Because the pound now buys a lot fewer euros, we are all thinking twice about our tourist forays abroad in Europe, where these two budget carriers make their money.
Let's not exaggerate, Ryanair is still very impressive
Despite this recent disappointment, let's not forget that Ryanair has still seen profits boom since 2014, on the back of a stellar record of growth in sales. Over this period, Ryanair has overtaken all Europe's flag-carrying airlines to become the biggest air passenger carrier by far in Europe, now carrying more than100 million passengers annually (see Chart 2).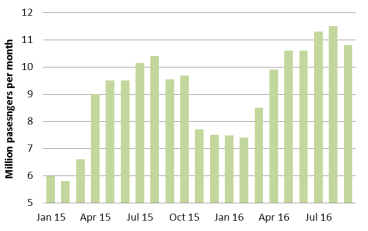 At the company's guided €1.30-€1.35bn for the year ending March 2017, Ryanair's net profits will still be way ahead of every previous year bar 2016 (see Chart 2).
But let's face it, people will still go on holiday in 2017
While the currency is certainly off-putting for those of us thinking about arranging our holidays for next year, I honestly don't think that it will stop us going abroad. For one thing, holidaying in the UK isn't exactly cheap either, and the weather is certainly anything but guaranteed to be good.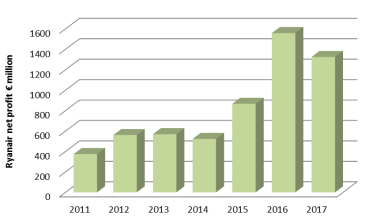 But it does present a challenge to all airlines and tour operators right now, with the risk that a further fall in the pound could trigger further profit warnings in the next few months.
According to the Office for National Statistics, we made 67.8 million visits abroad in the 12 months to July 2016, a rise of 7% on a year earlier. And we spent a massive £40.8bn on these visits, a rise of 9% on the previous year.
So while we might tighten our holiday budgets and seek out cheaper destinations, we will still mostly fly abroad for our holidays. So, I don't think that this presents a huge ongoing problem for the budget airlines, but rather more of a temporary setback.
Also don't forget that there should be an offset from more foreign tourists wanting to take advantage of the cheaper pound to come to visit the UK. The past couple of years has seen a steady increase in the number of overseas visitors to the UK to more than three million per month (see Chart 4), and this could increase markedly in the months ahead.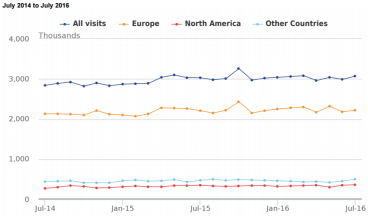 Brexit could have a much larger effect in the medium-term on flag-carrying airlines such as International Consolidated Airlines Group (UK code: IAG), the parent company for British Airways, Iberia and Aer Lingus. Flag carriers depend much more on business travel for their profits, and so if big businesses relocate out of the UK on the back of Brexit, this would be a more permanent dent in their business.
Should we buy Ryanair and eayJet today?
Both Ryanair and easyJet present cheap value shares today, post-profit warnings and share price falls. But is it sensible to buy their shares? I personally would wait a little, to see how the pound moves in the short term, as any further fall in the pound could trigger a further fall in airline profits.
Instead, think of those exporting companies that can benefit from a cheaper pound to sell more UK-produced goods abroad such as British Aerospace (code BA) in aerospace and defence, Diageo (code DGE) in wine and spirits and Burberry (BRBY) in luxury goods.