O2 has been told to hand over the details of 2,845 internet users who have been accused of illegally downloading pornographic films.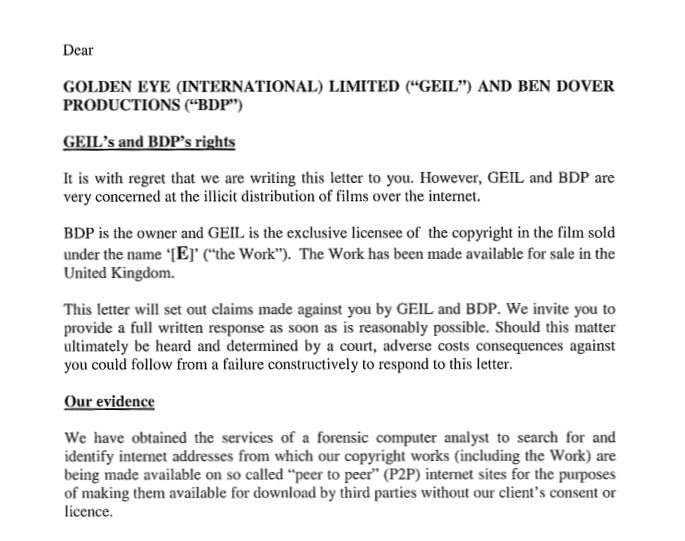 Golden Eye International will send out a letter to all those users in August as the first stage of legal action.
Some adult film companies have been accused of sending out letters asking for damages to force a settlement on people who are unwilling to go to court over a pornographic film. American internet user Jeff Fantalis is currently countersuing in response to what he claims is a common practice.
However, Golden Eye International - which is the parent company of Ben Dover Productions - has not named a figure in its letter to O2 customers.
"The level of damages we claim will depend on the extent to which you have downloaded the work and/or made it available for download by others," the letter reads.
"We invite you to provide a full written response as soon as it is reasonably possible. Should this matter be heard and determined by a court, adverse costs consequences [sic] against you could follow from a failure constructively to respond."
Golden Eye said it obtained the services of a forensic computer analyst to search for and identify addresses using peer-to-peer software to download its copyrighted works.
The letter sent to O2 customers names a date and time during which the work was available on the IP address of that person's computer.
Multiple internet users
In cases where multiple internet users live at the same address, the letter asks for "full disclosure of the other parties at your residence using your internet connection".
O2 originally refused to hand over the details of its users without a court order. Golden Eye petitioned the court and a legal document was issued by Mr Justice Arnold in May.
"We have no option but to comply with this court order and will be co-operating fully," O2 said.
On its website, Golden Eye International said it had long taken the stance that the unlawful distribution of copyright material was detrimental to the film and creative industries.
"The continued use of peer-to-peer file sharing networks has grown to such proportions that we are left with no other alternative but to pursue those who infringe our copyrights and to seek financial retribution, for our losses, through their unlawful activities," it said.
"While every attempt will be made to seek a settlement out of court we will not hesitate to enter into court proceeding with those who fail to acknowledge our intellectual property rights."