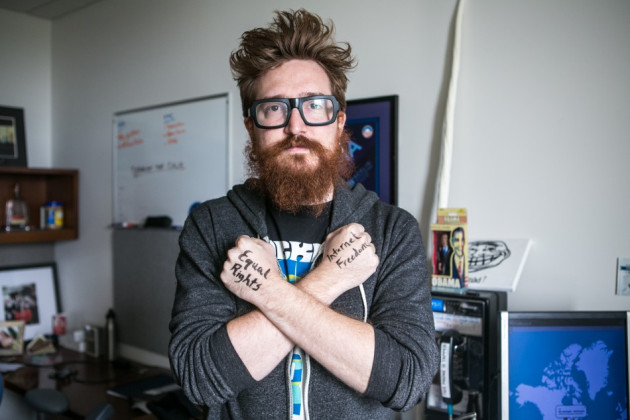 Harper Reed, the chief technology officer (CTO) and digital wizard behind the re-election of Barack Obama as president of the United States, is no modest man. You probably won't expect the brain behind one of the most successful presidential campaigns of all time to be short on modesty.
Yes, he can deliver, with his hipster, tech freak look, featuring a red, untidy beard, multiple piercings, Reed defines himself as "probably one of the coolest guys ever". But when it comes to explain how he accepted Obama's proposal to lead his digital campaign, his usual "coolness" gives way to more cautious thinking. "I know I could do it but there were aspects I was worried about, because you cannot commit mistakes," he said during his keynote speech at the International Journalism Festival in Perugia. "You know, it's just history, no pressure about it," he joked.
Coupled with a passion for open-source software, Reed made his name with Threadless, a clothing company totally funded through crowd-sourcing. For the Obama campaign, of which he said "failure was not an option", he built a platform called Narwhal, together with "the best engineers of our nation".
"We needed 30 engineers in three months," Reed said. "We got the best ones, from the best companies. That's ten times more that the staff than we had in 2008."
To send the "Forward" slogan to thousands of people, the Obama team adopted a mix of state-of-the-art tools (personalised Obama-Biden Direct Messages (DM) to normal people on Twitter) along with a more traditional approach, with volunteers knocking on people's doors.
"We didn't want to waste time by sending our volunteers to Republicans, we sent them to the undecided," he said.
But what does the digital innovator thinks of that Obama guy? "He seemed like a normal person," he said. "I met him three times and every time I talked to him, he made jokes about my beard.
"But I don't think charisma alone counts," he added. "His values in a way transmigrates to the people he hires, it transmits to the communication and the people he chose to hire for his communication."
However, Reed denies that he will play a role in Obama's second term.
"Presidential campaign and White House are two aggressively separate things," he claimed. "They still think I'm the weird kid in the corner, so I don't have much power. But I'll definitely do something to help."
The bearded, weird kid, who defines himself as "a hacker and a coder" shows an old-fashioned, almost patriotic side when someone asks him about "good tech tips".
"I don't have any tips because what we had was the fate of the free world, that pushed us," he said.