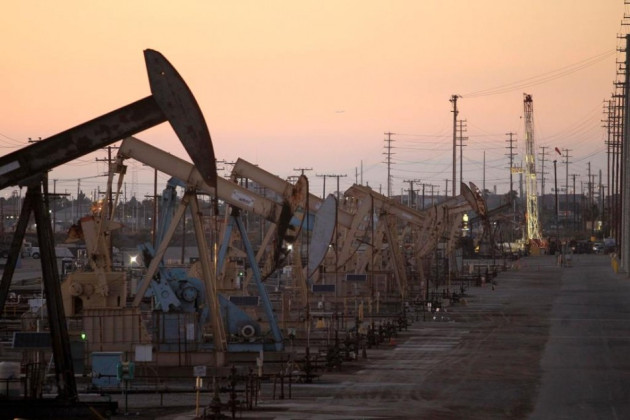 Oil futures logged modest gains on 18 October after Chinese government data showed that growth in the world's second-largest economy accelerated to its fastest pace in the third quarter of the year.
However, futures finished lower for the week as a whole after US data showed that supplies surged amid slowing demand in that country, the world's largest consumer of oil.
The November US crude oil contract inched up 14 cents, or 0.1%, to finish at $100.81 a barrel on 18 October. Prices were down 1.2% for the week.
The December Brent crude oil contract gained 83 cents, or 0.8%, to settle at $109.94 a barrel on 18 October. Prices were down 0.5% for the week.
China recovered from a growth slowdown in the third quarter, thanks to the country's "mini stimulus" package that fuelled domestic demand and boosted industrial production.
China's gross domestic product (GDP) expanded by 7.8% year-on-year in the July-September quarter, up from 7.5% in the preceding quarter. The quarterly growth rate was the fastest in the current fiscal year and was in line with analysts' estimates.
China's statistics office expects the country's economy to expand by 7.5% this year.
However, the inventory report published by the American Petroleum Institute (API), on 16 October, pulled down oil prices.
API data showed that US crude oil stocks grew by an unexpectedly sharp 5.9 million barrels during the week ended 12 October. The reading was more than twice the market expectation.
"The fact that crude oil stocks at Cushing climbed by 291 thousand barrels was also remarkable. This was the first inventory build at Cushing following 14 straight weeks of destocking. US gasoline stocks declined by 2.2 million barrels, while US distillate stocks dropped by 1.3 million barrels. Both the increase in crude oil stocks and the fall in oil product stocks can be explained by a lower crude oil processing rate," Commerzbank said in a note to clients on 17 October.
"U.S. [oil] demand continues to slow, seasonally, meaning supplies are more than adequate heading into the fall/winter," Darin Newsom, senior analyst at commodity-market research firm DTN told Marketwatch.
Oil prices rose slightly in response to indications [on 16 October] that [a debt ceiling] agreement was about to be reached in the US budgetary dispute, though they shed these gains again when the agreement was announced overnight ('buy the rumour, sell the fact'), Commerzbank added.