Olsen Twins Lead Vogue's 2011 Best dressed Sisters List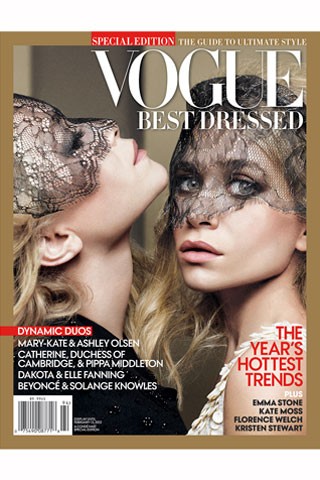 The Olsen twins have been named Vogue's bested dressed sisters after beating other celebrity siblings including, Dakota and Elle Fanning and Kate Middleton and sister Pippa to the top spot.
Mary Kate and Ashley Olsen, known for taking fashion risks, graced the front of the latest issue to the magazine after winning the coveted prize.
There seemed to be no signs of any sibling rivalry as the sisters reinforced their cemented style status in this week's issue of the widely edition.
The 25-year-old actresses turned designers were followed by other celebrity sisters including Dakota and Elle Fanning, Kate Middleton and younger sister, Pippa as well as Beyonce and Solange Knowles.
According to Reuters, Vogue Fashion News Director and Editor Mark Holgate said that the Olsens were the obvious choice for the number one spot.
He told Reuters: 'Are there any more chic, stylish, cool, and original sisters than Mary Kate and Ashley Olsen? They are incredibly stylish.'
He also celebrated their willingness to take fashion risks by saying: 'They get it right a lot of the time and then sometimes they don't get it right.
'That's actually great because it shows that it's their hands reaching into their wardrobes. They don't have someone telling them, 'This is cool, this is hot, this is what you should be wearing.' It comes from within them. It's instinctual,' he said.
To celebrate the stylish sisters being crowned Vogues' best dressed sisters have put together our very own gallery showcasing the best dressed sisters of the moment. Enjoy...