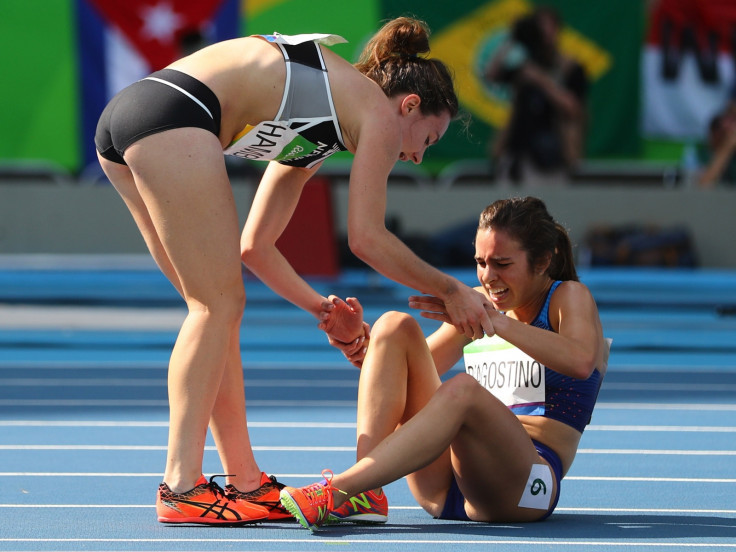 New Zealand Olympic runner Nikki Hamblin and US competitor Abbey D'Agostino have both won awards for one of the most inspiring scenes of the Games – reaching out to help each other after they collided and fell during the 5,000m race.
"I'm so grateful for Abbey for her help," Hamblin told reporters after the race. "That girl is the Olympic spirit right there."
The International Fair Play Committee of the Olympics agreed and awarded both competitors a Fair Play Olympic trophy.
Both runners are also in line to also receive the rare and prestigious Pierre de Coubertin medal. The gong, which has only been awarded 17 times in Olympic history, is given to athletes who demonstrate the true Olympic spirit.
The emotional moments between the women occurred Tuesday (16 August) when 28-year-old Hamblin fell while running in the middle of the pack during the 5,000m race, unintentionally tripping D'Agostino, who was close behind her.
Instead of leaping to her feet and surging ahead, D'Agostino, 24, first went to Hamblin's aid and made sure she was okay. Not realising that she herself had suffered an injury, D'Agostino's leg then buckled and she twice fell to the track.
That's when Hamblin did her part and helped D'Agostino to make sure she could stay on her feet.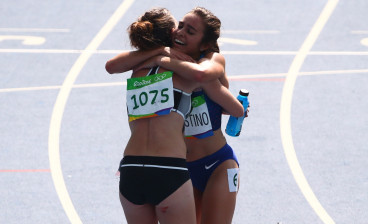 D'Agostino hobbled painfully to the end of the race another 4 laps with a torn ACL. Hamblin was waiting for her at the finish line to greet her with a hug before D'Agostino was wheeled out of the Rio stadium.
"Winning this award is overwhelming," said Hamblin at the awards' ceremony. "I am proud that what we did and truly believe that you can be both a competitor and kind and responsive at the same time.
"Everyone comes here to compete but there are a lot of people who don't achieve that and the journey is really important, too. That was one of those journeys and it has gone on to be one of the most important moments of my life.
"I am so grateful to Abbey for picking me up, and I think many people would have returned the favour ... Once you are on the track, there is a mutual understanding of what it takes to get there."