Seth Meyers' monologue for the 2018 Golden Globes, held in Los Angeles on Sunday (7 January), was wittily crafted around the series of sexual harassment cases that unfolded since the last couple of months. He also recalled the 2011 event and how his jokes about Donald Trump's ineligibility to become the US president prompted the billionaire to contest the election that eventually saw him win in 2016.
This time, the host repeated the same jokes with Oprah Winfrey, hoping his magical words could help her become the president in 2020. Meanwhile, listening to her powerful speech, her fans were convinced of her eligibility.
"In 2011, I told some jokes about our current president at the White House Correspondents Dinner, jokes about how he was unqualified to be president," Meyers recalled during his opening monologue at the 75th Golden Globe Awards on Sunday.
"And some have said that night convinced him to run. And if that's true, I would just like to say Oprah you will never be President."
Winfrey, who was honoured with the Cecil B. DeMille Award at the ceremony, delivered an inspiring speech on stage and hailed women power but ignored Meyers' 2020 presidency remark as she has previously denied the idea saying "there will be no running for the office of any kind for me".
She focused her speech on the sexual harassment prevention initiative Time's Up. "It is not lost on me that, at this moment, there is some little girl watching as I become the first Black woman to be given the same award. It is an honour and it is a privilege to share the evening with all of them," she said in her moving speech.
Hoping for a day when women won't have to say "me too," the media mogul said, "I want all the girls watching here and now to know that a new day is on the horizon! And when that new day finally dawns it will be because of a lot of magnificent women, many of whom are right here in this room tonight, and some pretty phenomenal men fighting hard to make sure that they become the leaders who take us to the time when nobody ever has to say 'Me too' again.
"I want to say that I value the press more than ever before as we try to navigate these complicated times, which brings me to this: What I know for sure is that speaking your truth is the most powerful tool we all have, and I'm especially proud and inspired by all the women who have felt strong enough and empowered enough to speak up and share their personal stories," she continued.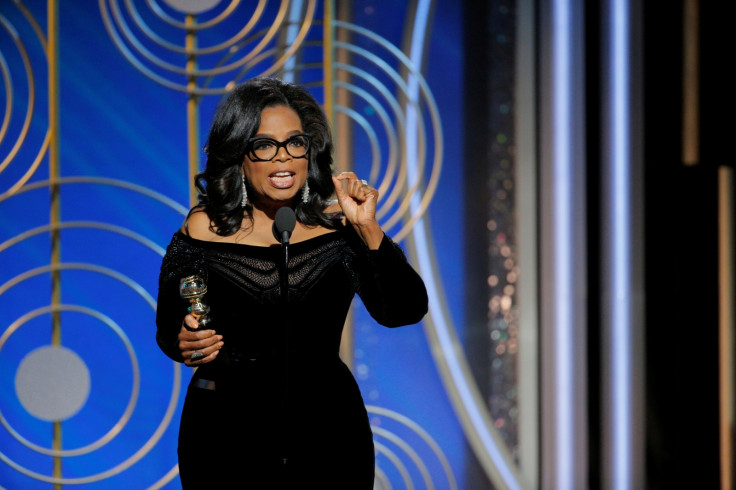 The popular Hollywood icon also paid tribute to all the women whose battle against sexual abuses have never been heard. "I want, tonight, to express gratitude to all the women who have endured years of abuse and assault because, they, like my mother, had children to feed and bills to pay and dreams to pursue. They're the women whose names we'll never know," she said.
"For too long women have not been heard or believed if they dared to speak their truth to the power of those men. But their time is up."
Meanwhile, Meyers also wanted Tom Hanks to run for the Vice President and said, "You do not have what it takes. And Hanks. Where's Hanks? You will never be vice president."
Winfrey's powerful speech and Meyers' jinx convinced her fans that it is about time she tried her luck in politics as "she is the best".
"Humane, inclusive, enlightening, inspiring and eloquent. It's been a while, but this is what a leader is supposed to sound like, right?" One Winfrey fan said on Twitter.
"Y'all I'm 99.9% sure @Oprah just declared her candidacy for 2020 with this speech and I could not be more here for it!!! "A new day is on the horizon!" added another.