Supermodel Kendall Jenner left social media outraged and confused after she made a surprise appearance at the 75th annual Golden Globe Awards at The Beverly Hilton on Sunday (7 January).
The 22-year-old model joined in the Golden Globes Time's Up protest by wearing black in solidarity with victims of sexual harassment and assault. She wore a dipped hem tulle gown with strapless neckline and thigh-high split and completed her look with T-bar heels.
The Keeping Up With The Kardashians star was savagely mocked on Twitter for mingling with the Hollywood A-listers at the event, with many users asking if she was nominated for her much controversial Pepsi commercial
A user tweeted, "Why is Kendall Jenner at the golden globes? Was she nominated for her performance in the Pepsi commercial?" another made a sarcastic remark adding, "Kendall Jenner is at the #GoldenGlobes clearly for her contribution to acting in that Pepsi commercial. Timeless."
Jenner featured in the controversial Pepsi's promotional campaign, earlier in April, came under fire for trivializing the Black Lives Matter movement in April 2017. The company pulled the commercial within hours of its debut and issued an apology in which it admitted that it "missed the mark".
An outraged Twitter user asked, "Okay, Y'all i swear i'm gonna stop after this but how did kendall jenner have the audacity to turn up to the golden globes..like I can't think of a person who would look more out of place there than she does? the only "acting" she's done was in that awful pepsi advert"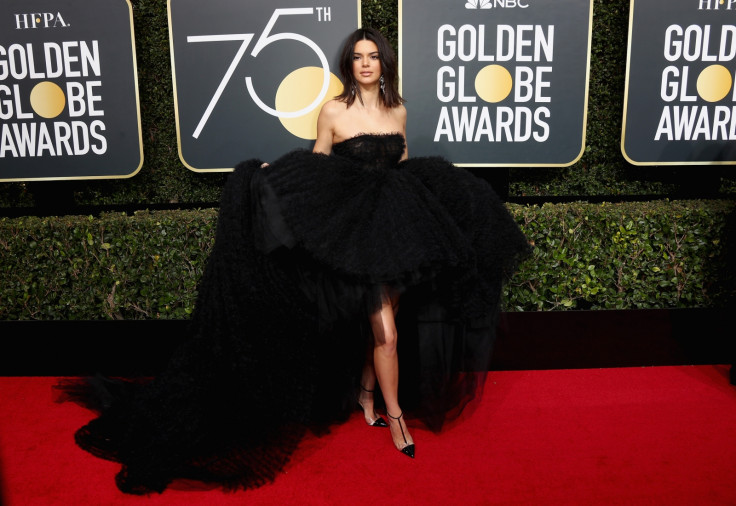 Meanwhile, some seemed utterly confused and offended at her appearance. A user wrote, "I'm confused as to why Kendall Jenner is at the Golden Globes when she has absolutely nothing to do with the film industry," another tweeted, "Why the heck is Kendall Jenner at the golden globes i'm fully offended by that."
One Twitter user even pointed to the fact that Kendall's ex-boyfriend, singer-turned-actor Harry Styles failed to attend despite his movie Dunkirk receiving a nomination.
"So the untalented Kendall Jenner can muster up the courage to attend an award show she's not even wanted at but Harry, the one who had a main role in a critically acclaimed film, decided not to go... but it's whatever I guess" the user wrote mocking Kendall.
One social media user came up with an explanation for her appearance, writing, "you guys Kendall was obviously at the golden globes for her starring role as kendall jenner on keeping up with the kardashians duh."