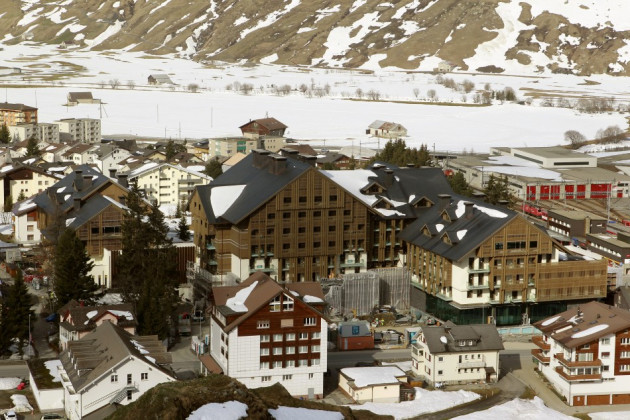 Multinational hotel developer Orascom Development Holding AG posted a net loss at the end of the first three months of 2013 after its construction and realty division sold fewer real estate units in Egypt and Oman.
Orascom reported a net loss of 19.1m francs ($19.7m/£13m) for the first quarter, as compared to a 4m franc loss a year ago, owing to a 20% drop in real estate sales, apart from 6.7m francs in foreign exchange losses from the US dollar-denominated loans in Egypt, a company statement said. First quarter revenues dropped 7.8% to 57.9m francs.
The Group's cost-savings programme, rolled out earlier this year to cut costs by 40-45m francs over the next 2-3 years, is underway, it said.
Orascom Development's stock lost 1.9% at 12:21 p.m. on the SIX Swiss Exchange.
Hotel revenues rose 2.3% to 34.9m francs, equivalent to 60.2% of the Group's revenues. Occupancy rates at its hotels touched 56%, compared to 52% in the first quarter of 2012, after hotel properties around the Red Sea hosting more guests.
The Group operates 6,654 hotel rooms.
Real estate and construction revenues dropped 29.2% to 11m francs, compared to 15.6m francs a year ago, owing to 'fewer real estate units being sold and delivered' in Egypt and Oman.
Orascom's owner Samih O. Sawiris decided to pick up a 51% stake in the Group's hotel project in the Andermatt Swiss Alps in March. "The Group expects the transaction to close in the second quarter of 2013, by when the project will also be deconsolidated, reducing the Group's debt," the company said.
Orascom will continue to focus on its key markets Egypt, Oman and Montenegro and will explore opportunities to hive off non-strategic assets and investments over the next two years, the firm said. The sale-and-lease back transaction in El Gouna is a first step in this direction and it brought in 5m francs in cash. Orascom expects similar transactions over the course of the year.