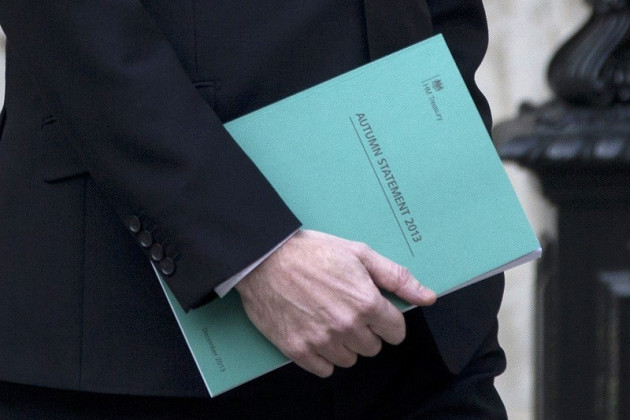 At more than 100 pages long and packed full of tedious details, you would be forgiven if you missed some of the Chancellor's new measures outlined in the Autumn Statement 2013.
But you need not worry because IBTimes UK has searched through the colossal document to bring you some of George Osborne's reforms that may have been overlooked.
Share Plan Incentives
The government revealed Share Incentive Plans (SIPs) and Save as You Earn (SAYE) limits will be increased.
The annual limits for SIPs will jump by £300 ($490, €358) to £3,600 per year for free shares and £1,800 per year for partnership shares.
In addition, the maximum monthly amount that an employee can contribute to SAYE savings arrangements will jump from £250 to £500 from April, 2014.
"The Chancellor's changes to SIP and SAYE limits can help millions of employees save more, add wealth and contribute to the success of their businesses," said Malcolm Hurlston, chairman of the Esop Centre.
He added: "They may have been a long time coming, but they are all the more welcome for that."
Employee Ownership Tax Reliefs
The government will introduce three new tax reliefs to encourage and promote indirect employee ownership.
Disposals of shares that result in a controlling interest in a company being held by an employee ownership trust will be relieved from corporate gains tax from April, 2014.
The chancellor also said transfers of shares and other assets to employee ownership trusts will also be exempt from inheritance tax, providing certain conditions are met.
In addition, the government revealed bonus payments made to employees of indirectly employee-owned companies which are controlled by an employee ownership trust will be exempt from income tax up to a cap of £3,600 per year from October, 2014.
"The Employee Ownership Association (EOA) has been calling for these measures for some time now and our members are pleased to see that they will now be implemented and properly funded", said Iain Hasdell, chief executive officer of the EOA.
He added: "These measures will help to create more of the higher productivity and long term investments that employee ownership delivers in every sector of the economy."
Public Sector Pay Pilot
The government will pilot a "pay bill control" in a small number of government organisations from 2014.
The chancellor said the control will involve setting a new financial control to keep the organisation's pay bill within a pre-determined budget agreed with the Treasury.
The new measure will replace the 1% cap on pay awards for the organisations involved in the pilot.
The government also revealed the Treasury will consider how continuing reform of public sector pay policy can best contribute to consolidation beyond 2015-16, including how to get the best value for money from the pay bill.
Fuel Duty Hike Scrapped
The chancellor said the fuel duty increase, which was due to take effect on 1 September, 2014, will be cancelled.
The government argued it made the move because it would help create a fairer society and estimated the freeze would save the average motorist £11 every time they fill their tank by 2015-16.
"The cancellation of the fuel duty increase programmed in for next year is a spectacular win for British businesses," said Charlie Mullins, the managing director of Pimlico Plumbers.
He added: "I'm not ashamed to say that it will represent a five figure cut in our company fuel bills for next year, which of course is also a win for our customers and the customers of hundreds of thousands of businesses across the country."