The tenth Mac OS X update, 10.9 Mavericks, brings a number of new features and applications to Apple's desktop operating system; in this feature we take a look at some of the less obvious updates.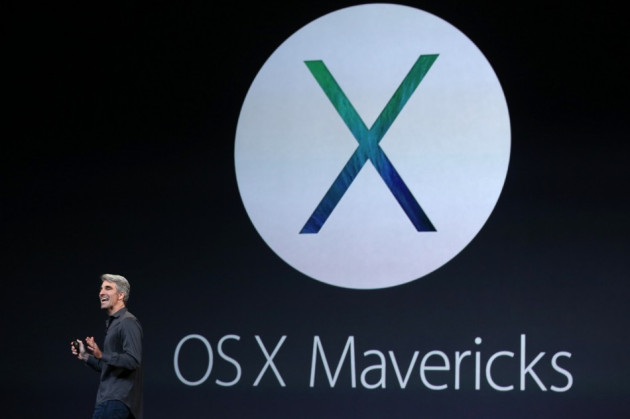 Do Not Disturb
As Apple brings its mobile and computer operating systems ever closer, you're more likely than ever to hear various beeps and alerts for notifications on your Mac. Chat messages from friends, emails, calendar reminders and notifications from websites and Twitter will all populate your Mac's Notification Center - but muting them all is easy.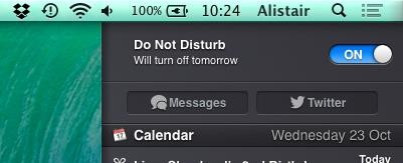 First seen on iOS devices, Do Not Disturb is a simple toggle switch putting a halt to the audio and visual signs of incoming notifications. Swipe from the palm rest onto the right-most edge of the trackpad with two fingers to open Notification Center, then swipe down over your notifications with two fingers to reveal the Do Not Disturb switch, which is set to 'off' by default.
Click to mute all incoming alerts, or click the settings icon in the lower-right corner to configure the feature in more detail.
Notifications - both audible alerts and on-screen banners - can be muted between two times (during a meeting, or your lunch break, for example), or when your Mac is connected to a television or projector, preventing alerts from interrupting the film.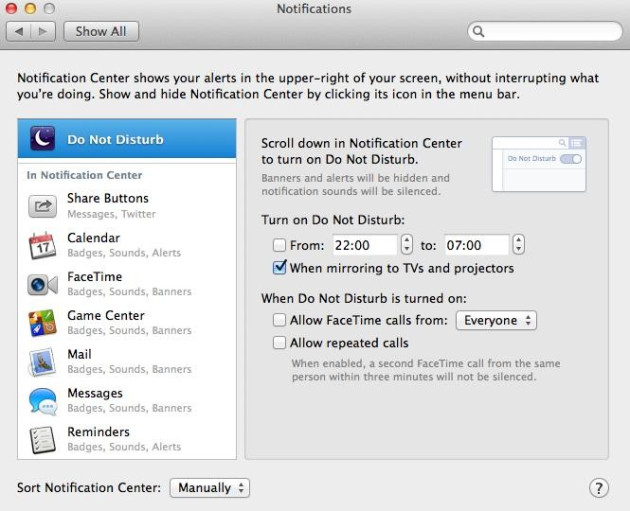 Mirroring the iPhone's call blocking feature, FaceTime calls from either everyone or your favourite contacts can be accepted while Do Not Disturb is switched on, or you can set the system to accept a call only when a second call is made from the same number or contact within three minutes of their first call.
Send iMessages from Notification Center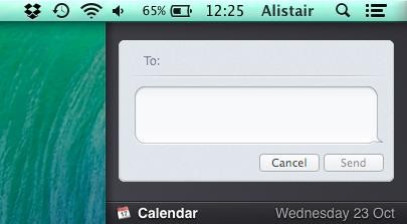 Open Notification Center with a two-fingered swipe from right to left (or click the icon in the top-right of the screen), and there's a new button which lets you start iMessage conversations without opening the app itself.
Simply type in the contact's name, write your message and click send. Messages can also be replied to within Notification Center, saving you from opening the app itself.
As before, tweets can also be published to Twitter from the Notification Center.
Twitter links in Safari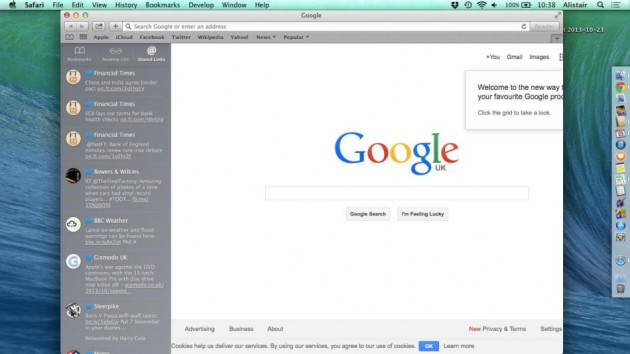 Twitter has also been embedded with Apple's Safari web browser. Click the bookmarks icon in the top left and a third column of tweeted links now sits next to your bookmarks and saved reading list.
These tweets are pulled from your Twitter feed, but only tweets containing links are included, filtering out the noise made by everyone else. This feature is particularly useful if you follow a lot of journalists and new organisations who regularly tweet links to new stories.
Travel time in Calendar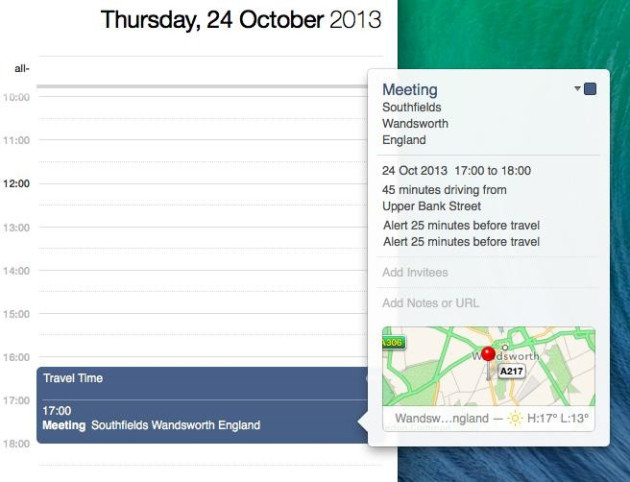 The new Maps app in Mavericks integrates with Calendar to provide estimates of travel time from your current location to upcoming events. Both driving and walking times are provided, and selecting either will add this length of time to the event- or you can enter your own estimate.
Calendar then updates the event to include a section labelled 'Travel Time'.
Unfortunately, Maps on Mavericks doesn't offer public transport routes or times, so you're stuck with just driving and walking estimates for now, as with iOS.
Power off display
A one-second press of the power button on a MacBook running Mavericks powers off the display - useful if you want to dim the screen while playing a film through your TV and a quicker alternative to turning the brightness down.
A three-second press open the option to restart, sleep or shutdown the computer, previously seen after one second on older versions of OS X.
Finder tabs and full-screen
Finder has been updated to support tabbed and full-screen browsing, making it easier to move folders and files around the operating system. Much like using a web browser, Cmd+T opens a new tabs, which can be dragged around and reordered. Folders and files can be dragged from one tab to another, saving you from opening several separate Finder windows.
Finder can also be made full-screen, with a click of the icon in the upper-right corner.
iCloud Keychain
Formerly a Mac-only app, Keychain now offers iCloud support in OS X Mavericks. Passwords for logging into websites, email accounts and social networks are automatically stored and synced with all your devices across iCloud.
Setting up iCloud Keychain requires you to set a four-digit PIN and provide a mobile phone number to which a verification code will be sent when login attempts are made from a computer that isn't your own.
Once set up the app will store all passwords you use, and will also suggest new, hard-to-guess passwords when a new one is required.
Details for multiple credit cards can be stored in iCloud, but the CCV number on the back of the card must always be entered manually.
Enhanced Activity Monitor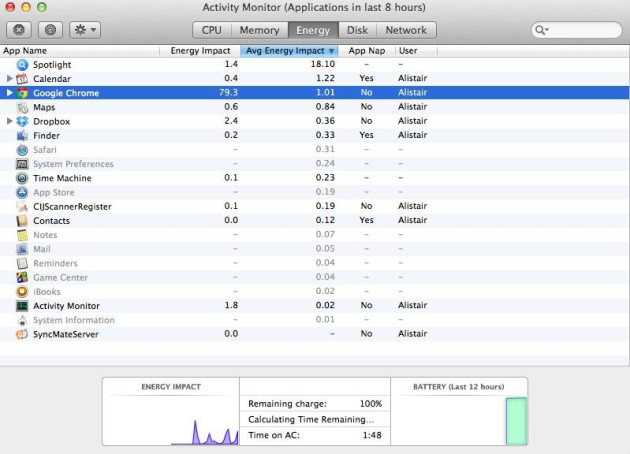 Apple claims Mavericks will increase MacBook battery life by up to 1.5 hours. To keep tabs on how much energy each application is using, Activity Monitor now gives an 'energy impact' stat to help you determine which apps should be closed if you are trying to preserve battery life.