Apple's recently launched OS X Mountain Lion operating system is causing battery performance problems for many users of Apple's MacBook Pro and MacBook Air laptop computers, according to reports.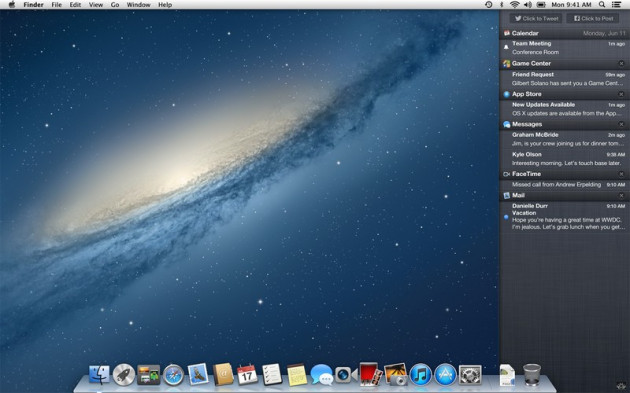 A number of Mac users have reported a noticeable drop in battery life after installing Mountain Lion, which is a £13.99 upgrade from Apple, and the issue is a hot topic of discussion on Apple's support forum.
Users claim that after upgrading to the new version of OS X they are experiencing just half the battery life of OS X 10.7 Lion. Some community members are attempting to resolve the issue by wiping their computer hard drives and re-installing the software, creating a new partition and rebooting and resetting PRAM. GottaBeMobile quoted the Olympic photographer Andrew Weber's tweet in regard to the battery life of his MacBook Air running Mountain Lion. Weber says that his MacBook Air only estimates two hours 37 minutes of operation on a full charge. This, he says, is "unacceptable".
Apple is reportedly examining the problem and has contacted users about their issues. Apple Support Communities' member stevo_c claims that Apple has sent an e-mail questionnaire regarding the battery issue. Apple is asking affected users to log the information from their Activity Monitor program and collect system information. According to GottaBeMobile, Apple will use the data to identify the issue and, hopefully, fix it.
Meanwhile, some users have come up with their own ways to improve the battery life of their devices. "Start the Activity Monitor, press Command-1," advises spritrig member on Apple Support Communities under the thread titled "Battery life shortened with OS X Mountain Lion". "Sort the processes by CPU usage. See what processes are using the most CPU. Quit those processes if you don't need them. X11 shortens my battery life. Shockwave Flashplayer eats batteries for breakfast."
"Check the Mail app. I somehow think if you go to mail preferences, and select check mail from "every 5mins" to "every hour" or "manually", your battery life should improve," claims lesliepaul on the same thread.
"If you have a MBA [MacBook Air] 2011 or any of the new 2012 portables with an SSD you have Power Nap," claims dwb, under the thread titled "Mountain Lion is killing my battery life too fast". "If you do have Power Nap, be sure to open the Energy control panel and turn it off while on battery. During testing I found that Power Nap, because it wakes up the computer every hour to look for updates etc, drains the battery about twice as fast as when it is turned off. I have my computer configured to keep Power Nap active when it is plugged in only."
In addition to the battery life problem, some users have reported wireless connectivity problems, according to MacRumors. The wi-fi connection seems to drop at random or in some cases it automatically reconnects.
OS X Daily has come up with a few solutions to resolve the connection issue in OS X Mountain Lion. The site claims that to get the best results, users have to combine both methods.
IBTimes UK advises users to proceed at their own risk and will not be held responsible for any consequences. Mac users should back up their machines using Time Machine before proceeding.
Check out the below methods, courtesy OS X Daily.
Fix 1: To add a new network location and renew DHCP
Open System Preferences from Apple menu and select "Network"
Pull down the "Location" menu and then select "Edit Locations..."
Click [+] button to add a new location, rename it and then click "Done"
Go back to the "Network" screen and click "Network Name" menu and join the wireless network
The wireless connection might be active now, but you need to renew the DHCP lease. The Dynamic Host Configuration Protocol (DHCP) is a network protocol which is used in configuring network devices.
From the Network panel, click on "Advanced" button and click the "TCP/IP" tab.
Please make sure "Configure IPv4:" is set to "Using DHCP" and then click "Renew DHCP Lease" button. Now, click "Apply".
The exact DHCP settings have to be renewed from the connected router. Click "OK" and exit from System Preferences.
Fix 2: Change MTU Size to prevent dropped connections
Maximum Transmission Unit (MTU) will control the largest packet size that the layer allows for transmission. If the setting is greater than the network capacity, the user will face packet loss and a drop in connections.
Open System Preferences from Apple menu and choose "Network".
Click the "Advanced" button followed by "Hardware" tab.
Pull down "Configure" menu and set to "Manually".
Change "MTU" to "Custom" and set the field to "1453".
Click "OK" and exit Network preferences.