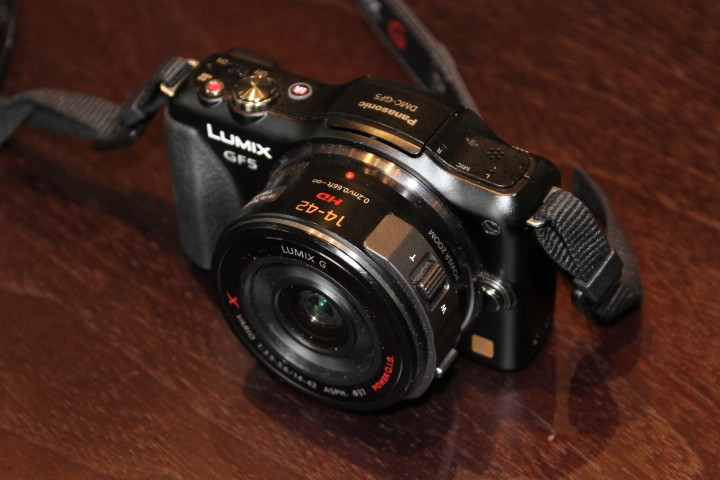 Key Features
12.1 megapixel Live MOS Sensor

3in LCD screen, 930K dots resolution

Built-in flash

Power Zoom 14-42mm (Equivalent 28-84mm) Lens

ISO up to 12,800

Price as Reviewed: £400 (including Power Zoom lens)
Introduction
Cameras these days come in all shapes and sizes, with everything from sub-£100 point-and-shoot models to expensive and bulky DSLRs. In between sits the category the Panasonic Lumix GF5 belongs to.
Unfortunately we don't have an easy name to put on the category as it has been variably called: compact system camera, interchangeable lens camera, micro-four thirds camera and more, with each manufacturer choosing their favourite.
Whatever you call it, Panasonic's G series has been around for a while now and combines the compact body of a traditional point-and-shoot device with a superior sensor and a range of lenses which can be attached, more associated with DSLRs.
The GF5 is the fourth generation of Panasonic's range, and doesn't change much from last year's model, the GF3. The body has been changed ever-so-slightly and the LCD screen has a better resolution but the big change comes with the new kit lens, which is much more compact and features Power Zoom controls.
Panasonic GF5: Design
What is immediately noticeable about the GF5 is just how compact it is. Pictures don't do it justice. The camera's body measures 108 x 67 x 37mm and weighs just 267g including the battery and SD card but without the lens attached.
Even with the new new Lumix X power zoom lens attached, the GF5 easily fits in a jacket pocket, backpack or handbag.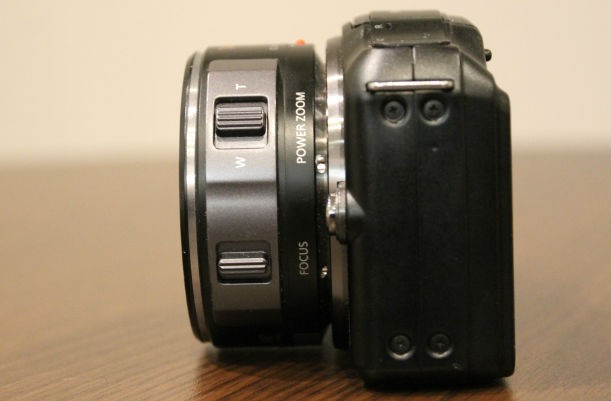 Panasonic hasn't done much to the overall look of the GF5 when you compare it to the GF3, but it has increased the size of the rubberised grip on the left, which makes a difference when you're holding the camera for a long time.
The build quality of the camera is practically flawless. While the black metal body did pick up some scratches during my time with the camera, it was nothing too noticeable and considering it was brought on safari in South Africa, it held up very well.
The only issue I would have with build quality, is with the build-in flash. Normally hidden, a button above the 3in screen springs it into action.
When I got the camera first I was sure the flimsy looking mechanism would jam or break, but it didn't and while it's not the sturdiest of constructions, it remained responsive and unbroken.
The built-in flash is OK, but if you want to light something more than a few feet in front of you, you'll be out of luck as their is not hot shoe, meaning you can attach a more powerful flash or say a microphone.
The layout of the buttons and dials remains the same as the GF3 and while some may have liked to have seen a mode dial on the top, there isn't really any room for it, and from my point of view, I didn't need one.
The shutter button was nice and firm, and the handy iA (intelligent Auto) button also saves users from having to jump into the menu system all the time, if they want to grab a picture in a hurry.
The 3in LCD screen has also had a major makeover, with the resolution jumping from 460k to 920k, and with no optical viewfinder on offer, it's a good thing that Panasonic has boosted the resolution.
With all picture framing done on screen, it's a good thing that its bright and responsive, which helps with navigating around the menu system too.
Panasonic GF5: Performance
One of the great things about the GF5 (for a novice like me at least) is just how easy it is to use. Switch it on, tap the iA button and away you go.
iA is Panasonic's idiot-proof setting which will automatically select the best settings including ISO, white balance, exposure etc for you, without you having to even think about it.
However, there is so much more on offer from the GF5, which makes it a real option for more discernible photographers, or indeed professionals looking to carrying around something much smaller than a DSLR but which gives similar results.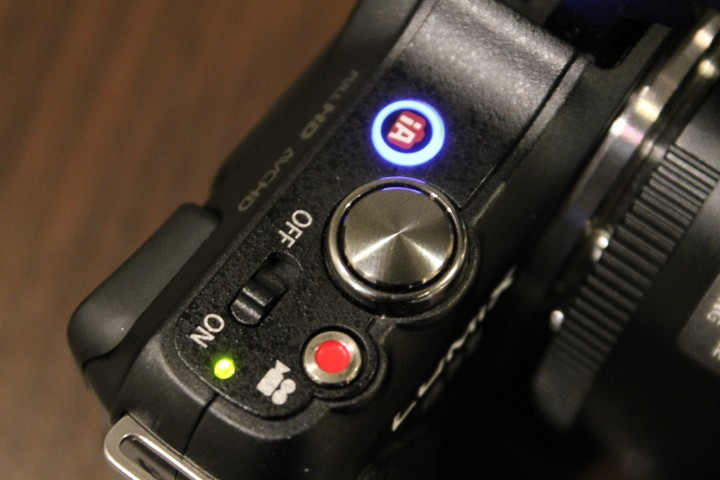 While there is no physical mode dial on the camera, pressing the menu button in the centre of the scroll wheel on the back bring up a virtual mode dial, letting you shoot in the normal Program, Aperature-priority, Shutter-priority or Manual exposure modes, as well as letting you choose iA and iA+ - the latter of which adds automatic colour and brightness correction.
This menu also gives you access to the creative menu, which includes a range of filter from toy to Sepia and monochrome. All work well, though these are clearly aimed at the more casual photographer.
Finally, this menu is gives you access to a number of preset Scenes, which automatically set-up the camera correctly depending on whether you are shooting in day time or night, taking a landscape or portrait shot or capturing still or moving images.
Navigating the UI on the touchscreen is remarkably easy, even for someone who isn't used to changing all the settings on a DSLR. The main menu lets you change settings like focus mode, image quality, images settings on the fly, while framing a photo.
As I said, the review unit we got came with the new Lumix X power zoom lens, which adds very little to the overall bulk of the camera, especially compared to the regular 14-42mm kit lens. Two toggles on the lens itself let you control zoom and manual focus. Both work well but it takes a bit of time getting used to their positioning.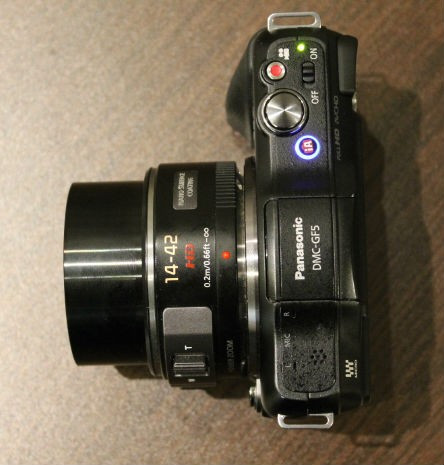 Film capture is available in 1080p Full HD (in both AVCHD and MP4), and the results are excellent. The power zoom arguably makes zooming even smoother than using a focus ring, however if you are filming a very quiet scene, you will notice a slight whirring as the lens extends and retracts.
Speaking of sound, the GF5 has updated its microphone to stereo compared to the mono one available on the GF3, though its positioning to the left of the flash does mean it can be accidentally covered by your fingers at times.
Panasonic also includes some wind reduction technology which can be turned on or off, or set to auto. While it works in part, it won't eliminate the noise from a strong breeze completely.
Panasonic GF5: Image Quality
While on paper the GF5 would seem to have the same 12 megapixel Live MOS sensor as its predecessor, Panasonic says it has been redesigned completely for better low light performance. This is paired with the company's Venus 2 processing engine which again claims to be a big improvement over the previous version.
Thanks to its "multi-process noise reduction" the Venus 2 engine allows for cleaner images at higher sensitivity levels - thus the ISO now goes all the way up to 12,800, one step up from the 6,400 limit on the GF3.
Panasonic has also improved the auto-focus, claiming a AF-lock speed of just 0.09 seconds, which is incredibly fast and in my testing it showed, with the GF5 responding virtually instantly - which was very handy for capturing those elusive leopards while on safari - creating sharp images on a consistent basis.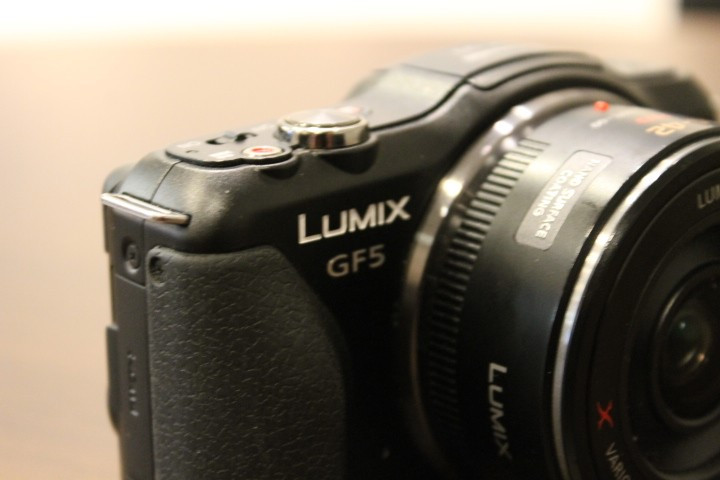 Overall image quality was superb. While it may look like a point-and-shoot, the results were spectacular, even in the hands of a novice photographer like me.
Colour reproduction is probably the stand-out area for me. The GF5 produced punchy and vibrant images even when the light wasn't particularly bright, without ever becoming over-saturated.
One of the things Panasonic claims is majorly improved with the new sensor is low light performance, but while it did a decent job at capturing detail in gloomy conditions, it was not as good as we might have expected.
Turning the ISO up to 1,600 kept images relatively free of noise, but the images lacked the fine details we would have hoped for.
Shooting Macro images is also not as good as we might have hoped. The closest focusing distance on the kit lens was around 20cm, which is not great. While you can get lenses more ideally suited to this job, we would have preferred a lower focal range.
That said, the image results of some macro shots we took were far superior to anything we could take with a point-and-shoot, with a find level of detail and textures.
Panasonic GF5: Verdict
The GF5 is a brilliant camera. Put it in the hands of anyone and they will be able to produce superb pictures. While it looks and acts like a simple point-and-shoot camera, the GF5 produces images of the quality you might expect from a far more expensive DSLR.
On Panasonic's own online store, the GF5 combined with the Lumix X power zoom lens will set you back £658 and at this price we couldn't recommend it. However, a quick search online shows you that it is available now for a lot less, with prices going as low as £369 - and at this price it's a no brainer.
With a range of compatible G lenses available for all your shooting needs, then this is a compact system camera which will produce sublime results, even if you just point and shoot.
Scores
Overall 9/10
Image quality 9/10
Design 9/10
Value 9/10
Performance 8/10
The Good
Compact design
Great Build quality
Superb image quality
The Bad
Sample Images