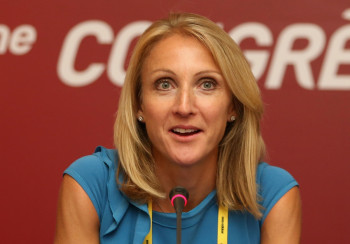 Former Olympians Paula Radcliffe and Dame Kelly Holmes have added their names to a 26,000-strong petition calling on a Bristol council to reverse its decision to charge sports enthusiasts wanting to join Parkrun, a weekly event aimed at encouraging people to exercise. Stoke Gifford Parish Council voted on 12 April to charge the roughly 300 participants an entry fee for the event at Little Stoke Park.
The council argues that since football clubs pay to hire a pitch so runners must contribute to the upkeep of the park – a position rejected by runners on social media and through the online petition.
Chief operating officer for Parkrun, Tom Williams, said: "We are extremely disappointed that Stoke Gifford Parish Council has voted to impose a charge at Little Stoke Parkrun. Parkrun has had unprecedented success in engaging the least active and encouraging them to exercise regularly. Providing free weekly access has been fundamental to this and we are disappointed that this opportunity is to be removed for the residents of Little Stoke."
Former marathon runner Radcliffe and middle distance competitor Dame Kelly added their voices to those calling for the event to remain free for all participants, with all of the other 850 weekly fun runs across the country currently free, as well as run by volunteers.
Parish council chairman Ernie Brown told the BBC he "fully understands the upset" but it is not about "trying to charge people for running". "Since last night I've had 500 emails. I can't say what they say but they are slanderous and they're aggressive. It's just not acceptable," he said.
"The football club, they pay £60 for the hire of the pitch. We're not proposing to charge £60 but at the same time as an organisation they should contribute towards the upkeep."
More than 4,000 people take part in the runs every week in various locations across the country, and fans fear charging a fee at one of the locations will mark the end of the free runs.
Williams added: "Our aim is to break down barriers to participation in, and delivery of, physical activity and this is consistent across 850 parkruns worldwide, which are all delivered by volunteers and are free to take part in. Imposing a charge at one event is something that contradicts our founding principles and would set a precedent that threatens our future.
"As a nation we must make a decision about whether we want to be healthier or not. The costs to all of us of inactivity and poor health are immense. Parkrun has had enormous success at bringing communities together and promoting physical activity in safe and welcoming social environments.
"The past six months have been an uncertain and difficult time for everyone involved with Little Stoke Parkrun and our entire global community of more than two million park runners is behind them as we discuss our next steps."