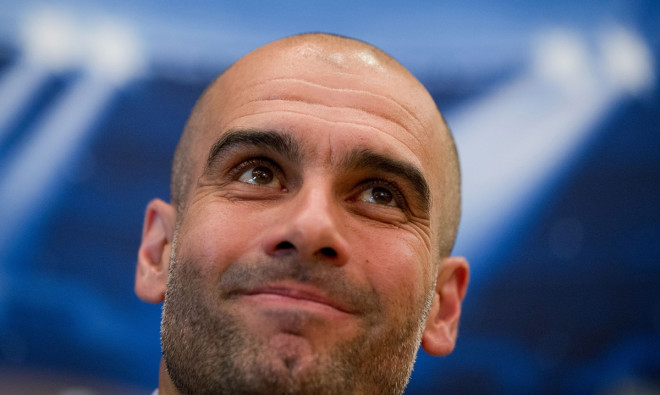 Bayern Munich manager Pep Guardiola and Paris Saint Germain boss Laurent Blanc have both rebuffed suggestions they could replace David Moyes at Manchester United.
Louis van Gaal, the Netherlands coach, is the bookmakers' favourite to replace Moyes who was sacked on Tuesday morning after less than 10 months in charge of United.
And after Borussia Dortmund boss Jurgen Klopp became the first manager to spurn the advances of United, Guardiola and Blanc have followed the German's lead by both rejecting questions regarding a move to Old Trafford.
"I signed for three years," Guardiola said prior to the Champions League semi-final first leg against Real Madrid. "I am here, I am Bayern's and I want to stay here for [the] two more years [on my contract] to do my job.
"We won the Bundesliga but I feel that we can still improve. I still have a job to do. I knew the style of Spanish football perfectly but it was not easy for me to go to Germany and change culture and the style. I feel like I need more time to feel that this is really my team.
"I absolutely do feel that Bayern is my team now but we can play better and in that sense I still have work to do. I want to stay here because I am comfortable here, the people are such gentlemen in my work and I want to stay a little bit longer."
The attending Bayern press officer added: "Tell the people in England: no chance."
Blanc, whose PSG side are seven points clear at the top of Ligue 1, is a former United defender but ahead of the club's fixture against Evian was refusing to comment on speculation regarding the vacant position at the Theatre of Dreams.
"Let me stop you right now, I'm talking about Evian right now," the former France national team boss said. "I see you coming. This is irrelevant; it will go in all directions."
Though Blanc's contract is due to expire in the summer, the PSG boss is expected to put pen to paper on a new deal after his side claimed the French League Cup at the weekend.
With the high-profile trio having attempted to poor cold water over rumours regarding a move to United, Van Gaal's position as favourite for the role has seemingly strengthened though interim boss Ryan Giggs will have the final four games of the season to stake his claim.
Atletico Madrid boss Diego Simeone refused to answer questions on Monday regarding the possibility of Moyes being sacked, before his club's Champions League semi-final against Chelsea.