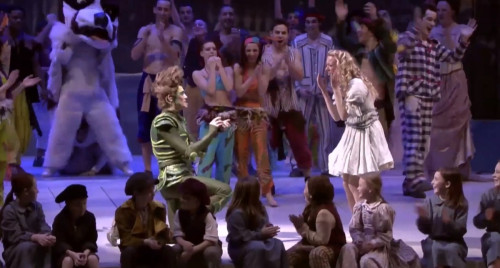 Spectators who came to watch a pantomime performance in Glasgow's Hydro theatre got to witness a little more 'fairy tale' moments than they expected when the actor playing Peter Pan proposed his real life girlfriend (who was incidentally playing Wendy) on stage towards the end of their show.
It was a true fairytale ending for Peter Pan actor Sandor Sturbl and his Wendy co-star and real-life girlfriend Jane Mary Sullivan (stage name Lilly-Jane Young), reports The Telegraph.
Sandor went off-script and stopped the performance to address the audience:
"Ladies and gentlemen, normally this show would continue with Peter Pan watching Wendy and giving her a kiss. Although this is not a normal show this evening. It is a Dutchman Sandor Sturbl looking at the love of his life," he said.
The surprised actress burst into tears as Sandor got down on one knee and proposed with a blue sapphire and diamond engagement ring. The proposal took a-still-in-costume Young completely by shock:
"We were just about to sing our final song of the night when the music stopped. I thought it was a technical hitch and was starting to panic when Sandor turned to the audience," she told The Daily Record.
The heartfelt gesture was met with a huge cheer and applause from the audience as the actress said yes to the proposal.
The two cast members met while touring and have been dating for a little over a year, reports The Huffington Post.
The video was uploaded yesterday (Jan. 14) and has since received a whopping 250,000 views.
Watch the video below: