Philippine's peso near four-month high as Q4 GDP growth beats forecast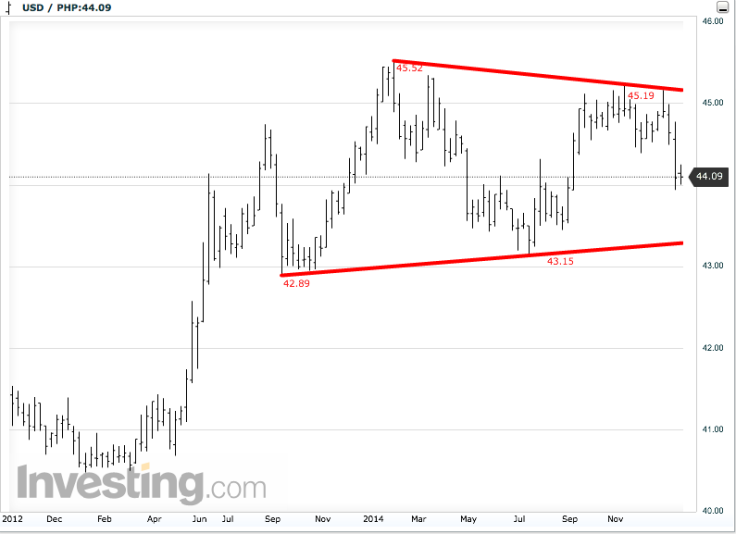 The Philippine peso held near a four-month high despite a higher US dollar after the Fed policy statement, as data from the Southeast Asian country showed its growth rate far exceeded market estimates in the fourth quarter of last year.
The Philippines economy grew an annual 6.9% in the last quarter of 2014, its fastest in the last five quarters, way above the 5.3% expansion in the third quarter.
The USD/PHP pair had fallen to as low as 43.93 last week, its lowest since mid-September and down 1.9% so far in January. The pair held a range of 44.06-44.22 so far this week, holding close to the four-month low hit on 23 January.
The Fed, in a statement issued on Wednesday, reworded its remarks to show its increased confidence over the growth momentum in the US while playing down downside risks to inflation, boosting the dollar generally.
The USD index had fallen as much as 1.8% from last week's 12-year high ahead of the Fed review to 93.70 but it rebounded more than 1% to 94.80 after the policy statement.
According to the FOMC, the US expansion is now "solid," as compared to "moderate" performance in December. The job market performance has been described as "strong" instead of "solid".
The Q4 growth in the Philippines was in all sectors in the economy while government expenditure rebounded and exports rose.
Philippines industry sector grew 9.2% year-on-year, following a 7.6% expansion in the preceding quarter. The services sector growth advanced to 6% from 5.4%. The agriculture sector expanded 4.7%, reversing from a 2.7% decline in the third quarter.
On the expenditure side, government expenditure expanded by 9.8% after recording a 2.6% decline in the preceding quarter. Exports expanded 15.5%, accelerating from a 9.8% increase.
On a quarter-on-quarter seasonally adjusted basis, the GDP advanced 2.5% much faster than a revised 0.7% in Q3.
For the whole of 2014, the country grew by 6.1%, as compared to a 7.2% expansion in the previous year, missing the government target of 6.5 to 7.5%.
Technically, the USD/PHP pair seems to be on a sideways trend but the pattern suggests additional downside room within the channel.
If that channel holds, the peso is likely to strengthen towards 43.50 or even lower per dollar before a bounce back.
However, any bounce from the current level beyond 44.30 will weaken the chances of the pair on the downside.
© Copyright IBTimes 2023. All rights reserved.