Pink Star Diamond Mined in Africa Fetches Record $83m at Sotheby's Auction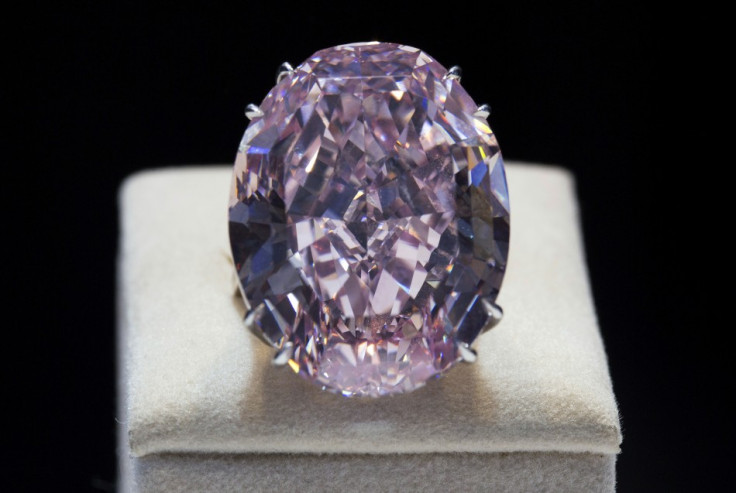 A rare diamond known as the Pink Star has fetched a record amount at an auction in Geneva conducted by Sotheby's.
The 59.60-carat internally flawless fancy vivid pink diamond was bought by New York-based diamond cutter Isaac Wolf for $83m (£52m, €62m), a world auction record for a diamond and any gemstone or jewel. The amount includes Sotheby's commission.
Wolf renamed the diamond, which is set on a ring, the Pink Dream after winning the auction.
The Pink Star has broken the record established three years ago when a 24.78-carat Graff Pink, a fancy intense pink diamond, was sold for $46.2m.
The diamond, presented for the first time at an auction, was estimated to fetch about $60m. The diamond received bids from four people, including two Asian clients.
"The Pink Star is a true masterpiece of nature. Its immense importance was reflected tonight in the strength of the bidding and we are thrilled that the record prices it achieved earned it a place in history. Today's record sale is a further testimony to the strength and depth of the diamond and jewellery market," David Bennet, chairman of Sotheby's Switzerland, said in a statement.
About the Pink Star
The Pink Star is the largest internally flawless fancy vivid pink diamond that the Gemological Institute of America (GIA) has ever graded. It received the highest colour and clarity grades from the GIA for pink diamonds.
The diamond is part of a rare subgroup known as Type IIa, comprising less than 2% of all diamonds, according to Sotheby's. Diamonds in this subgroup are chemically the purest of all diamond crystals and have extraordinary optical transparency.
It was mined by De Beers in Africa in 1999 and cut and polished over a period of two years to transform it into a stunning piece. The diamond was 132.5 carat in its rough state.
In the latest auction, Sotheby's sold jewellery worth about $200m, a record for a single auction.
Preview Video
© Copyright IBTimes 2023. All rights reserved.