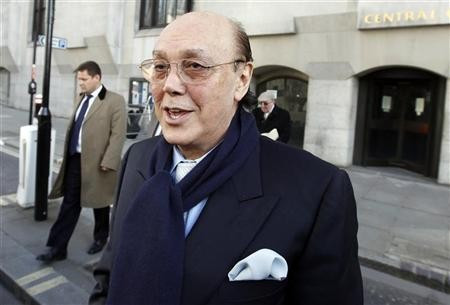 Former Polly Peck tycoon Asil Nadir has been jailed for 10 years for stealing nearly £29m from his business.
Former fugitive Nadir, 71, was found guilty of stealing a total of £28.6m from Polly Peck International (PPI) - the equivalent of £61.8m today - between 1987 and 1990.
Nadir was found guilty of 10 counts of theft after a seven-month trial at the Old Bailey in London but was cleared of a further three offences relating to more than £5m.
Nadir fled the country to Northern Cyprus three years after his £2bn business empire collapsed in 1990 but returned in 2010.
Stole out of pure greed
On sentencing, Mr Justice Holroyde described Nadir as a man with outstanding business skills who helped PPI become a major conglomerate which culminated in a FTSE 100 listing.
However, he added Nadir was also "a wealthy man who stole out of pure greed".
"The company's success was in many ways your success. But the company's money was not your money. You knew that. You nonetheless helped yourself to it and committed theft on a grand scale."
The court heard how the legal costs into the investigation had run to £3.2m, not including the original investigation by the Serious Fraud Office (SFO) into Polly Peck following its collapse in 1990.
Nadir also received legal aid throughout the trial, despite arriving to court each day in a chauffeur-driven Jaguar. The prosecution have said they will attempt to retrieve some of that money back.
Nadir will be eligible for release after he has served half of his sentence.
His lawyer, Phillip Hacket QC, tried to have his sentence reduced by revealing that Nadir has been suffering coronary heart disease and high blood pressure.
Nadir's wife Nur, 28, said her husband would appeal. "A guilty man does not come back to face justice of his own accord. My husband came back voluntarily. Polly Peck was his life," she said.
After the verdict was announced, she said outsdie the court: "The image that has been portrayed of him as being one who solely lived off the benefits of Polly Peck is a great prejudice to the truth.
"He is a man of great character, integrity and honour, who gave in abundance to charities and worthy organisations for many years.
"My husband is innocent and having faith in the British justice system we will continue with our efforts to rectify the wrongs.
There have been calls for the Conservative party to return donations of £440,000 from the disgraced company made during the Thatcher era.
The party has dismissed the suggestion, saying there is no evidence to say the money donated was stolen by Nadir.