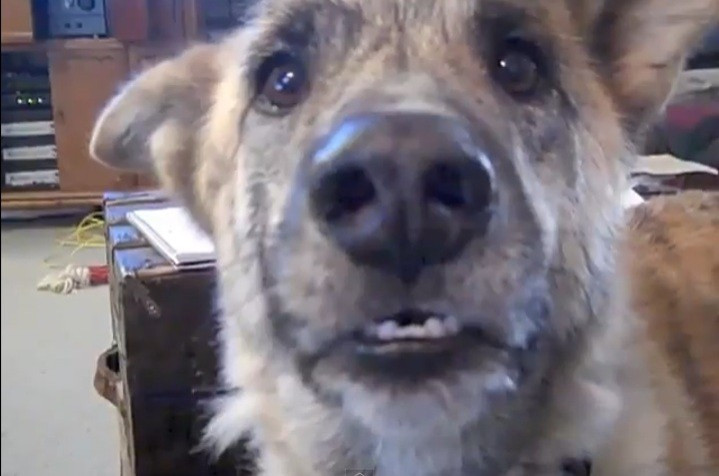 YouTube have revealed the 10 most watched videos in the UK for 2011, with a 'talking dog' and a spoof of the royal wedding topping the list.
The 'Ultimate Dog Tease' video, which has gained more than 70 million views, shows a pet moving its mouth in time to its owner's voice, complaining about all the food his owner has eaten or thrown away.
The second most popular video is a spoof of the Royal wedding between Prince William and Kate Middleton featuring a cast of look-a-likes breaking out in dance as they walk down the aisle. The T-Mobile advert references several real-life dancing wedding videos, which have become viral hits on YouTube recently.
'A Song By Charlie Sheen' is the third most popular of the year, a musical edit of the infamous 'winning' interview which Sheen gave after being fired from the hit U.S. TV show Two And A Half Men for drug use.
The remixed interview, which includes edits of Sheen giving sound bites such as "I'm bi-winning, win here, win there, win win everywhere," has been watched by more than 37 million people.
Perhaps inspired by the success of the Charlie Sheen clip, Swede Mason created his own musical mash-up of the presenters of BBC's Masterchef praising buttery biscuit bases to a dance music soundtrack, which is the sixth most popular. Fourth place goes to "Nyan Cat", a bizarre animation featuring a cat flying through the air with a rainbow trail.
Also in the top ten are Michael Collings' Britain's Got Talent audition in which he performs a rendition of Tracy Chapman's Fast Car and a film featuring two twin boys engaging in non-sensical rambling with each other.
Jessie J's Price Tag has been revealed as the most watched music video of 2011 in the UK, with Rebecca Black's song Friday becoming the most watched video of YouTube video around the world in 2011, partly due to the widespread hatred of the song on social media sites.
"The 10 most-watched YouTube videos of 2011 show that around the world, whatever language we speak, there are certain things that bring us all together around a computer screen or mobile phone - adorable babies, talented performers, and clever advertising," said YouTube Trends Manager Kevin Allocca.
The top ten in the list have racked up more than 285 million hits worldwide since being poted on YouTube.
You can view the top ten most popukar videos below:
1. Ultimate Dog Tease
2.T-Mobile Royal Wedding
3. Songify This - Winning
4. Nyan Cat
5.Michael Collins - Britain's Got Talent Audition
6. Masterchef Synesthesia
7.Diary of a bad man 5
8.Rebecca Black "Friday" (Brock's Dub)
9.Talking Twin Babies

10. TomSka