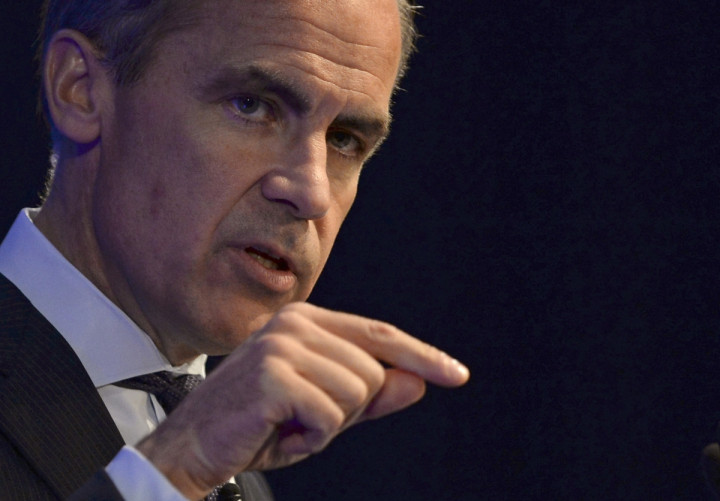 The British pound rallied to an over one-month high and is testing the multi-year high of last month after Bank of England governor Mark Carney signalled earlier than expected rate increases.
The GBP/USD rose to 1.6973, its highest since May 8, and just under the 6 May peak of 1.6998, which was the highest since early August 2009. Sterling strengthened nearly 0.8% after Carney's remarks.
It has next big resistance at 1.6998 and then 1.7045, the August 2009 peak. A failure below 1.6998 will take it to 1.6824, the 23.6% Fibonacci retracement of the 5 February to 6 May uptrend and then comes 1.6693.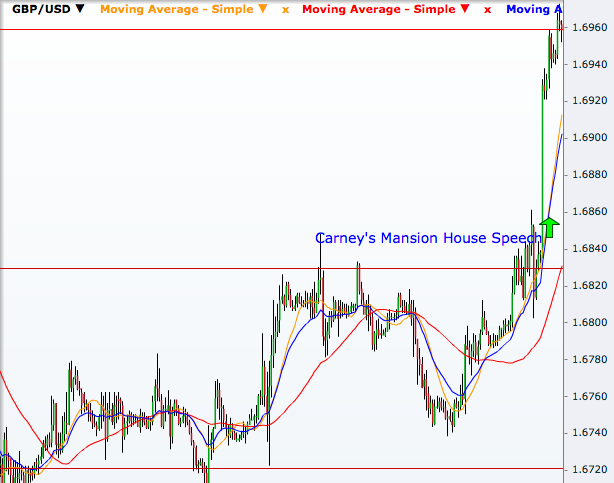 The EUR/GBP fell below the 0.80 support to 0.7990, its lowest since 16 November, 2012. GBP/JPY rallied to 173.00, its highest since 7 May.
"There's already great speculation about the exact timing of the first rate hike and this decision is becoming more balanced. It could happen sooner than markets currently expect," Carney said.
Carney was speaking at the Lord Mayor's Banquet for Bankers and Merchants of the City of London at the Mansion House, London.
Carney, however, added that the ultimate decision will be data-driven. "At this point it is safest to conclude, as the MPC has, that there remains scope for spare capacity to be used up before policy is tightened and that a host of labour market, capacity utilisation and pricing indicators should be watched closely to determine how that slack is evolving."
"Growth has been much stronger and unemployment has fallen much faster than either we or anyone else expected at last year's Mansion House dinner. So far this has been largely matched by indicators which suggest that there is more supply capacity in the labour market than we had previously thought."
"As a result of these two welcome developments, despite rapid jobs growth, pay pressures and unit labour cost growth have remained subdued," the governor said.
The UK's unemployment rate fell to 6.6%, its lowest since April 2009 and from 6.8% recorded last month, Wednesday's data showed. The market was expecting 6.7%. Claimant count fell by 24,700 against consensus of 25,000 drop and compared with 25,100 fall last.
The MPC expects the rate at which slack is being eroded to slow during the second half of this year as output growth eases and productivity growth recovers. But thus far there are few signs of a deceleration in output growth, Carney said.
"And a challenge in deciding when to begin normalising policy is that actual output can be observed but potential supply cannot. That is why the MPC is monitoring a broad range of indicators including coincident ones such as the behaviour of wages and prices," he said.