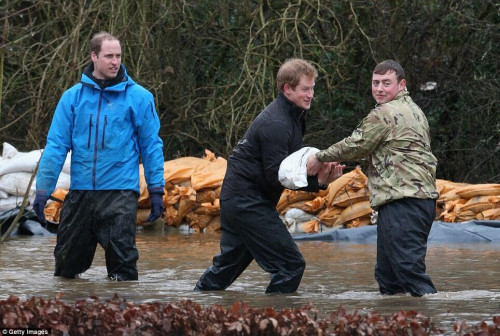 Princes William and Harry did their bit to ease the plight of locals living in areas badly affected by floods when they helped stack sandbags.
Dressed in willies and waterproofs, the princes helped Harry's colleagues from the Household Cavalry in Datchet, Berkshire, shore up flood defences in the town.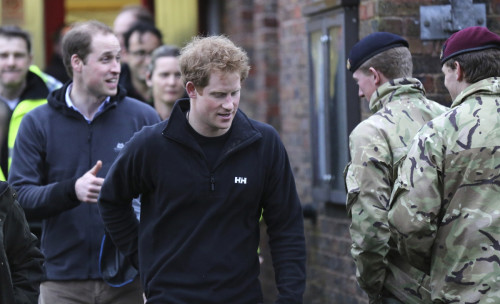 Datchet Parish Clerk Graham Leaver said the two princes arrived in the area unannounced and were so casually dressed they were practically unrecognisable:
"They came into our parish office and it took most of us a few minutes to realise they were there. They were particularly interested in talking to the troops."
The princes, who have both served in the armed forces, were hard at work from 6am and were pictured laughing and joking as they helped unload sandbags from an army truck on to a railway wagon, telling members of the media they should help out instead of just "carrying cameras around".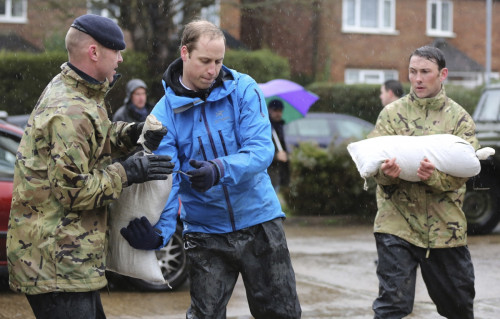 A spokesperson for Kensington Palace said the princes were prompted to do their bit having seen footage of the flooding which has affected much of southern Britain over the last two months: "They wanted to do their bit to help in a private capacity. The most appropriate way was through the Armed Forces relief effort."
Prince Harry claimed to be uncomfortable being photographed helping out in Datchet. When asked by a journalist if he was enjoying mucking in he said: "Not really, with you guys around."
The Queen has also been doing her bit for devastated communities, donating animal feed and bedding from the royal farm at Windsor to farmers on the Somerset Levels.
The severe weather which has gripped Britain since mid-December is finally showing signs of coming to an end after weeks of flooding, torrential rain, 100 mph winds, and snow across higher ground. Two people died on Valentine's Day and thousands of homes remain without power.
Watch Harry and William help out with sand bags.