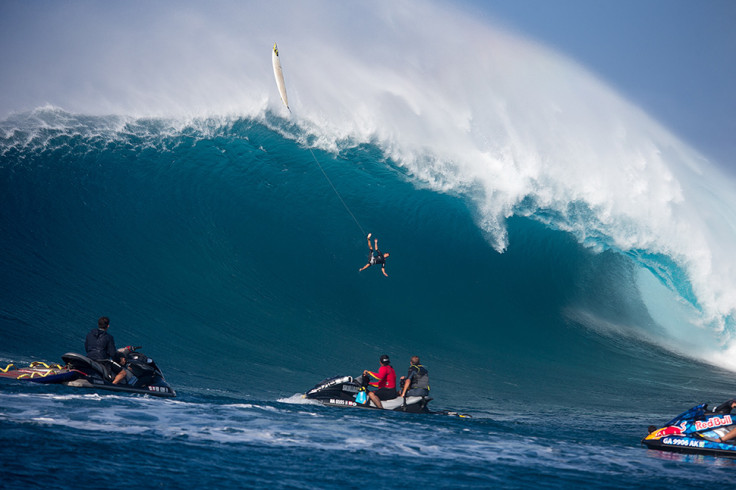 The giant wall of water in Maui that dropped professional surfer Tom Dosland into the drink was like a "sea monster rising out of the ocean," he recalled of the crazy ride. Dosland fell through the air and finally hit the water 40ft (12m) below.
The incredible tumble, captured on video, broke the internet. It grabbed half-a-million views in a couple of days.
Dosland and his team had been keeping an eye on the swell building off the infamous Jaws point in Maui, he told Surfer Magazine.
He waited in the water "kind of tripping" waiting for a big wave. "By the time this swell hit, I was itching to get a bomb. I wanted one really bad," he said. Then came the Big One.
Dosland said he took the wave even though it was frighteningly massive. "When this wave came toward me, I was totally committed. It looked like a sea monster rising out of the ocean when it came my way. But I was going. No matter what," he recounted.
Dosland said his eyes were closed against the sea spray blowing into his face just as he was about to drop in to the wave. When he opened them, "I realised what was about to happen; I instantly realised that this wasn't going to end well for me.
"I was free-falling for a while. It felt like I jumped off a cliff," Dosland said. "That's when my leash stretched out all the way and flipped me over head-first.
"From there, I hit the face and it was just a brutal beating, like I was in a car crash. It was so intense that I basically froze and forgot to pull my [buoyancy] vest," he said. "Toward the end of it, I realised I hadn't pulled the chord, so I finally did and popped to the top of the water. It was rough, man."
Amazingly, Dosland didn't suffer any injury other than a stiff neck. He was back out surfing the next day, waiting for the next big one.