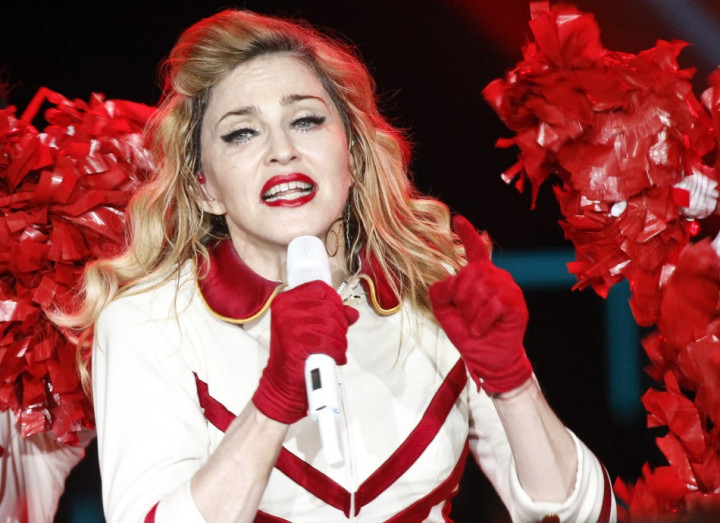 One of Russia's top politicians has slammed pop star Madonna as a moralising "slut" for supporting feminist punk band Pussy Riot, whose three members are on trial in Moscow on blasphemy charges.
"With age, every former s. tries to lecture everyone on morality. Especially during overseas tours," deputy prime minister Dmitry Rogozin said on Twitter, using the first letter of the Russian word for "slut" or "whore".
Madonna is touring Russia with her MDNA show and has condemned the Pussy Riot prosecution as unfair.
Russian state prosecutors have demanded that Nadezhda Tolokonnikova, Yekaterina Samutsevich and Maria Alyokhina should be jailed for three years for their controversial "punk prayer" protest against President Vladimir Putin at Moscow's Christ the Saviour Cathedral.
Dressed in coloured masks, they ascended the altar and chanted a song which implored the Virgin Mary to "throw Putin out" before they were arrested. The protest led to their detention and trial on blasphemous hooliganism charges. The case has been denounced by critics as a show trial.
During a concert in Moscow, Madonna, who has been cited as an inspiration for the band, added her voice to those of other international artists such as Red Hot Chili Peppers and Jarvis Cocker, who have appealed for leniency.
"I am against censorship and throughout my whole career I've always promoted freedom of expression, freedom of speech. So obviously, I think that what happened to them is unfair," Madonna said.
"Art should be political. Historically speaking, art always reflects what's going on socially. It's hard to separate the idea of being an artist and being political," she added.
Madonna is expected to perform in St Petersburg and pledged to speak out against a new city new law banning "homosexual propaganda".
A priest from the Russian Orthodox Church has urged believers to phone in bomb threats to disrupt her show in St Petersburg.
Leading British rock musicians such as The Who guitarist Pete Townshend, Cocker, Alex Kapranos of Franz Ferdinand, former Smiths guitarist Johnny Marr, Corinne Bailey Rae and Neil Tennant of the Pet Shop Boys have signed a letter, published in The Times, urging a fair trial - something that seems to have been denied them, say critics.
Putin himself has urged the court not to judge the women too harshly.