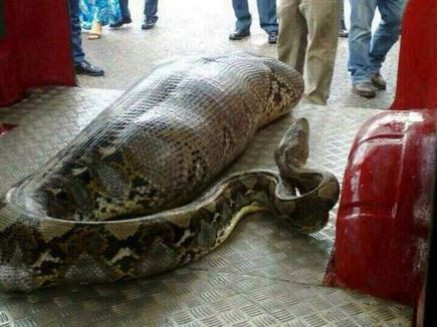 An article about a python eating a drunk man in India, circulating on social media has turned out to be a hoax.
The story went viral on Twitter, after an image posted by a financial professional from Indian state of Madhya Pradesh, Vikraman Nair, showing a python with a large object inside of it.
"A Python ate a person who was drunk and lying beside the liquor shop. News from Attapady, Kerala," he captioned the picture. The photo was re-tweeted more than 14,000 times.
Russian state-run website Pravda covered the story without citing any credible sources.
"A giant python strangled and swallowed a male resident of India, who fell asleep near a liquor shop. The snake could not move after a hearty dinner," the report stated, "The incident occurred in the state of Kerala, in the south-west of the country. The drunk man was peacefully sleeping near the shop, when the python approached him, strangled the man and swallowed him whole. The next morning, local residents found the gigantic bloated python on the doorstep of the shop. People had to kill the snake to take the man's body out."
David Emery with About.com wrote that the photo has been surfacing since few years with different stories attached to it.
"Depending on which version of the story you read, the overstuffed python above swallowed a drunk guy in India, an unknown woman in South Africa, an unknown man in Qujing, China, a person of unknown gender in Indonesia, or a 4-year-old child in Malaysia," he wrote.
"All of the above can't be simultaneously true, obviously. The photo, which I've not yet been able to trace to a definitive source, has been circulating online for at least two years and more likely than not documents a python digesting a goat or a deer," Emery added.
Meanwhile, British actor and radio and television presenter Adil Ray also took to his Twitter account to clear the false reports.
"Ok the Python eating a drunk pic doing the rounds is a fake. Has appeared for years with different story attached," he tweeted.