A leading London-based LGBT campaigner has called on FIFA to cancel the 2022 World Cup in Qatar over reports that Gulf Cooperation Countries will introduce medical screening tests to "detect" and ban homosexuals entering the countries.
Peter Tatchell, director of the Peter Tatchell Foundation, told IBTimes UK that the proposed legislation "will mean that gay players and spectators will be banned from attending the football world cup".
"This contradicts previous assurances given to FIFA by the Qatar government that everyone will be welcome and that there will be no discrimination," he said.
"FIFA now has no option but to cancel the world cup in Qatar. Allowing it to go head in these circumstances would involve FIFA colluding with homophobic discrimination."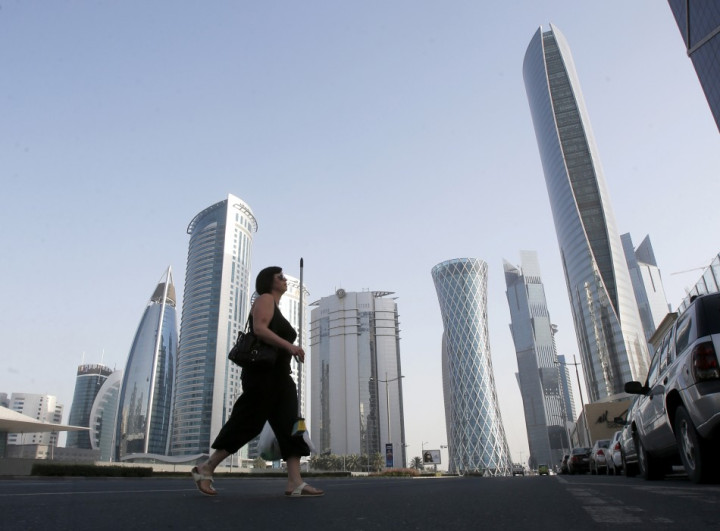 The tests were announced by Yousouf Mindkar, director of public health at the Kuwaiti health ministry, who said that the routine clinical screening of expatriates coming into the Gulf Cooperation Countries (GCC) will include measures to identify LGBT people who will then be banned from entering the country.
"Health centres conduct the routine medical check to assess the health of the expatriates when they come into the GCC countries," he told local daily Al Rai. "However, we will take stricter measures that will help us detect gays who will be then barred from entering Kuwait or any of the GCC member states."
Homosexuals acts are banned in all the GCC member countries, which include Bahrain, Kuwait, Oman, Qatar, Saudi Arabia and the United Arab Emirates (UAE).
"There is no known medical test to detect homosexuality," said Tatchell. "I wonder what quackery the Kuwaiti authorities plan to invent in their vain attempt to identify gay men. It simply won't work.
"Banning gay people from entering the country will deter foreign investors and companies. They won't want to subject their employees to such barbaric, medieval humiliations," he said.
In Kuwait, people involved in homosexual acts can receive up to 10 years in jail if they are under 21.
A FIFA spokesperson told IBTimes UK that the football organisation "is not aware about the specific matter" of the proposed legislation.
"FIFA through the work carried out by its various Standing Committees is actively engaged in fighting against all kinds of discrimination within football and within society as a whole," it said. "FIFA's zero tolerance policy towards any acts of racism and discrimination affecting the freedom of private persons - including their sexual and political freedom - applies to the FIFA World Cup and to all other FIFA events and activities."
"The creation of FIFA's Anti-Discrimination Task Force by FIFA President Joseph S. Blatter in early March 2013 was a key step in FIFA's ongoing fight against discrimination," the spokesperson said.
Tatchell responded saying that FIFA "has its head in the sand - of Qatar".
"It is pretending that this new repressive, homophobic threat doesn't exist," the LGBT campaigner said. "FIFA is all fine words but no serious action against homophobia. Is FIFA saying that the plan to test all visitors for homosexuality and exclude those who can be identified is untrue? Has it bothered to contact the Kuwaiti and Qatari authorities? It seems not."