Libor Fixing Scandal: Rabobank Fined €774m as CEO Piet Moerland Quits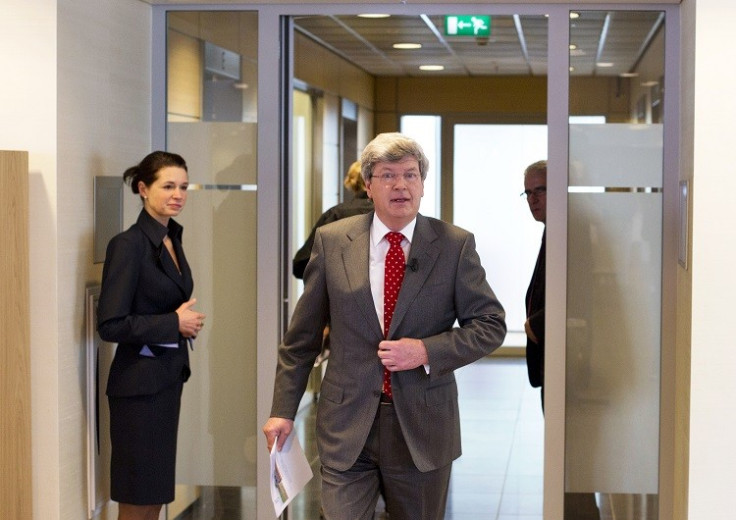 Rabobank's chief executive Piet Moerland has quit earlier than expected after the Dutch lender was fined €774m by US and other unnamed British and European authorities for its role in the manipulation of the key interbank lending rate Libor.
Out of the total amount, the Dutch lender will pay a €236m criminal fine to the US Department of Justice as Rabobank enters into a deferred prosecution agreement to resolve the charges.
Piet Moerland, who was due to retire in 2014, is being replaced by interim chairman Rinus Minderhoud. Rabobank also revealed that 30 Rabobank employees were engaged in "inappropriate conduct" relating to a scheme to rig benchmark interest rates.
Libor valuations directly influence the value of trillions of dollars of financial deals between banks and other institutions.
The benchmark reference rates are used in euro, US dollar and British sterling over-the-counter (OTC) interest rate derivatives contracts and exchange traded interest rate contracts.
The Dutch lender, a co-operative founded in the late 19th century as a farmers' bank, received a formal request from the Dutch Ministry of Security and Justice, for information linked to the ongoing probes into its possible involvement in the manipulation of Libor, in October 2012.
Rabobank said that it did not sufficiently appreciate the risks associated with the Libor and Euribor submission processes and that it took strong disciplinary action.
It added that it has taken extensive steps to strengthen its systems and controls related to its interest rate benchmark submission processes and that its financial stability has not been affected by the fine.
Libor Fixing Settlements
Barclays was the first to settle with UK and US authorities in June 2012 for £290m.
Nearly six months later UBS agreed a record $1.5bn fine with US, UK and Swiss authorities and also admitted to one count of wire fraud relating to rigging rates in Yen.
In February 2013, RBS became the third major bank to settle with the Commodity Futures Trading Commission, Department of Justice and Financial Services Authority for £390m relating to civil and criminal charges.
RBS subsidary, RBS Securities Japan Limited, also pleaded guilty to one criminal charge of wire fraud.
In September this year, Icap was ordered to pay £55m to US and UK authorities after a significant number of brokers, including two managers, attempted to rig rates between October 2006 and November 2010.
Banks Ramp Up Litigation Probe Provisions
Deutsche Bank is still being investigated over a number of financial scandals and, unlike its rivals, it has not settled over a raft of probes.
Deutsche Bank's balance sheet was slammed by billions of euros worth of litigation costs which subsequently led the German lender to report a near 100% drop in profits.
According to Deutsche Bank's latest quarterly results statement, the group revealed that its total litigation reserves pot, which is used for anticipated legal difficulties, stands at €4.1bn, after rising by €1.2bn.
Meanwhile, Swiss banking giant, UBS swung back into profit in the third quarter but deferred a key earnings target by a year because of temporary demands to hold extra capital to deal with unresolved legal issues.
According to the UBS' third quarter results announcement, the Swiss banking giant has imposed a temporary 50% capital top up over the next year, in a bid to deal with potential costs of unknown legal probes, compliance issues and other risk matters.
"UBS's ambition to achieve a group return on equity of 15% by 2015 will be delayed by at least one year," the bank added in a statement.
© Copyright IBTimes 2023. All rights reserved.