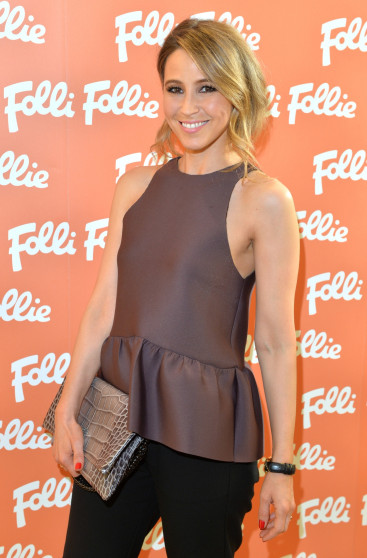 The parenting skills of Rachel Stevens have been called into question after she left her two young children unattended in a car while she ran errands. The ex-S Club 7 star stunned shocked onlookers in north London when she left her two daughters, aged four and 18 months, in the vehicle for around 10 minutes.
Although the singer may have believed they were not in any immediate danger because she locked the doors as she left the car park, passing shoppers told the Mirror they feared for the children's safety. Amelie, her eldest could be seen playing in the front seat and turning around to her sister in the back.
"At first I didn't realise they were in the car on their own or how young one of them was but when I did it was quite shocking," a witness told the publication.
"I suppose I think about the worst-case scenario but what if they took off the handbrake or managed to get out of the car? Or if someone managed to get in?"
And it was not long before the outrage spilt over on to social media, with many users branding the singer a "bad mother".
"If you don't care enough about your kids then care enough about your car. A four-year-old can let off the handbrake. Not acceptable and we certainly haven't 'all done it'," one critic said.
But it was not all bad. Anne Atkins, author of Child Rearing For Fun, has come out in support of the 37-year-old singer and insists that the "constant harping criticism of parents" is far more dangerous.
"We've all done it. Our eldest was a few weeks old and blissfully asleep on a bean bag, so I nipped to the corner shop for a pint of milk. I felt like a serial murderer," she told the Mirror. "Statistically, it's probably more dangerous to put kids in a car in the first place. The most ubiquitous threat to modern children is not the Bogie Man – or even other vehicles – but low level, constant harping criticism of parents for everything we do.
"Our parents never faced this barrage of disparagement and our upbringing was far more relaxed. So please, can we leave parents to make their own sensible and pragmatic, decisions about their children's safety?"
While people were more than willing to voice their disdain over Stevens's actions, the government's official guidelines mean she does not have to worry about prosecution.
"The law doesn't say an age when you can leave a child on their own, but it's an offence to leave a child alone if it places them at risk," it states. "Use your judgment on how mature your child is before you decide to leave them alone, e.g. at home or in a car."
IBTimes UK has contacted Stevens's rep for comment and is awaiting reply.