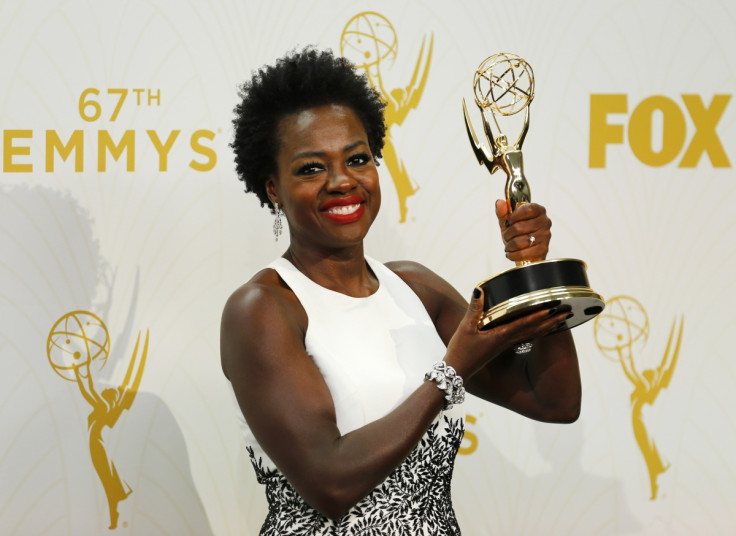 Celebrities have come out in force to support Viola Davis following her triumph at the 2015 Emmy Awards, with Laverne Cox, Gabrielle Union and Meagan Good among those to congratulate the star on her best actress in a drama series win.
Davis, 50, beat the likes of Taraji P Henson, Claire Danes, Robin Wright and Tatiana Maslany to scoop the coveted award for her role as Annalise Keating in ABC's How To Get Away With Murder. During her empowering acceptance speech, Davis addressed the issue of race in the Hollywood industry while also giving a shout-out to a number of her fellow actresses.
The TV star said: "In my mind, I see a line. And over that line, I see green fields and lovely flowers and beautiful white women with their arms stretched out to me over that line... The only thing that separates women of colour from anyone else is opportunity. You cannot win an Emmy for roles that are simply not there.
"So, here's to all the writers, the awesome people that are Ben Sherwood, Paul Lee, Peter Nowalk, Shonda Rhimes. People who have redefined what it means to be beautiful, to be sexy, to be a leading woman, to be black. And to the Taraji P Hensons and Kerry Washingtons, the Halle Berrys, the Nicole Beharies, the Meagan Goods, to Gabrielle Union. Thank you for taking us over that line. Thank you for the Television Academy."
Watch Viola Davis' Emmys 2015 speech:
Davis's words came at the perfect time as Good, 34, is set to make her debut in the TV adaptation of Minority Report on 21 September, taking one of the lead roles as Lara Vega. Responding to the speech, Good wrote in a lengthy Instagram post: "This moment ..I couldn't even speak .. It took my breath away .. What a moment. I grew up in this business .. Nothing has ever been given to me .. With Gods grace, I've fought for every opportunity .. Worked hard for everything."
Sharing her own experiences of racism and discrimination in the industry, Good continued: "I've been rejected or not even considered many times over, simply because of the colour of my skin. I made it my mission to never be bitter... Only better. To take great pride and joy in my struggle and to trust God above anyone thought to be in charge of my destiny. Today I smile. I smile sooo big with tears in my eyes.
"Seeng this#Queen not just succeed, Win.. Overcome .. To see her Conquer .. To see her talent, beauty and fearless determination come full circle .. And in Her moment she had grace, class and the spirit of a warrior returning home.. Wow. Listening to her acknowledge her sisters. Both black and white .. Their desire to see equal opportunity for each other ..and to see us all win. #ViolaDavis..Thank you ..thank you for your boldness tonight [sic]."
Orange Is The New Black star Laverne Cox added: "The queen. The first black woman to win a PrimeTime Emmy for lead actress in a Drama Series. Chills," while an emotional Gabrielle Union said: "Viola!!!!!! And that hug from @TherealTaraji ... crying!!!!! I'm sooooo of freaking proud, I'm shaking!!!!!" Although she was not mentioned in the speech, Disney star Zendaya praised Davis for her words of support, tweeting: "Thank you @violadavis for being all that you are...I appreciate you so much."
How To Get Away With Murder, which is written by Shonda Rhimes, returns with its second season on 24 September.