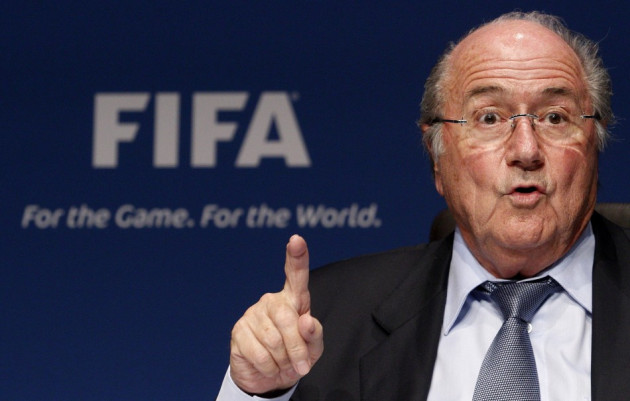 FIFA president Sepp Blatter moved to play down the controversy surrounding his comments after claiming racist abuse between players on the pitch should be settled with a handshake.
On a day when the Football Association is investigating two cases of alleged racism in England, Blatter's televised statement that racism on the field of play is not a problem could not have been delivered at a more inopportune time.
"I would deny it. There is no racism, there is maybe one of the players towards another, he has a word or a gesture which is not the correct one, but also the one who is affected by that ... he should say that this is a game," Blatter told CNN.
"We are in a game, and at the end of the game, we shake hands, and this can happen, because we have worked so hard against racism and discrimination."
The 75-year-old was later forced to clarify his comments, saying he had been misunderstood.
"I would like to make it very clear, I am committed to the fight against racism and any type of discrimination in football and in society," Blatter said in a statement.
"I have been personally leading this battle against racism in football, which FIFA has been fighting through campaigns such as Say No to Racism."
The FIFA president added: "My comments have been misunderstood. What I wanted to express is that, as football players, during a match, you have 'battles' with your opponents, and sometimes things are done which are wrong.
"But normally, at the end of the match, you apologise to your opponent if you had a confrontation during the match, you shake hands, and when the game is over, it is over."
Blatter's remarks provoked a furious backlash on Wednesday evening. Manchester United and England defender Rio Ferdinand said on his Twitter account: ''Tell me I have just read Sepp Blatter's comments on racism in football wrong... if not then I am astonished. I feel stupid for thinking that football was taking a leading role against racism.....it seems it was just on mute for a while.
''Just for clarity if a player abuses a referee, does a shake of the hand after the game wipe the slate clean??''
The FIFA president's comments came on the same day as Liverpool striker Luis Suarez was charged by the FA over alleged racist comments made towards Manchester United's Patrice Evra.
In a statement the FA said Suarez had been charged for allegedly making "a reference to the ethnic origin and/or colour and/or race of Patrice Evra."
Meanwhile, England captain John Terry remains the subject of an FA probe and a Metropolitan Police investigation into claims he racially abused QPR defender Anton Ferdinand at Loftus Road last month.