Rashida Jones, DL Hughley and Karrueche Tran's furious response to Terence Crutcher shooting
Crutcher, a 40-year-old black man, was unarmed when he was shot by a white police officer in Oklahoma.
Hollywood actors DL Hughley and Rashida Jones are among the celebrities who have reacted to the fatal shooting of black man Terence Crutcher. The 40-year-old was unarmed when he was shot dead by a white police officer in Tulsa, Oklahoma, on 16 September.
Video footage obtained from a dash-cam shows Crutcher standing beside his vehicle with his hands raised in the air while being surrounded by several police officers.
It is believed Crutcher's car had stalled which explains why it was parked in the middle of the road. According to reports, Tulsa police officer Betty Wright called dispatch to claim Crutcher was not complying with their orders.
Crutcher is believed to have been tasered by officer Tyler Turnbough before a single shot was fired. It is reported that the group of officers waited for around one minute before they approached Crutcher's body.
Actor and comedian DL Hughley tweeted: "I wish Americans were as upset at #TerenceCrutcher getting shot DOWN as they are at #ColinKaepernick not standing UP!#ItsTooMuch #TeamDl." He added in a video: "I wish all the people from Jerry Rice to Jason Whitlock to Ray Lewis to Rodney Harrison who were so upset about Colin Kaepernick are just as upset about Terrence Crutcher getting shot down because as I recall that's how this whole b******t started."
Whitlock responded to Hughley's message: "Me and my family know the pain of Crutcher family. Tweets, national-anthem gestures, faux outrage don't fix it. Enjoy the retweets and likes."
Hughley also retweeted a meme which stated: "Black man killed by police officer for 'looking like' a bad dude," along with the hashtag #ItsTooMuch. Hughley has been extremely outspoken in support of the Black Lives Matter movement and broke down in tears during a live TV interview about the shooting of Philando Castile in July.
Actress Rashida Jones, who spoke out about the Dallas shootings in July, also weighed in: "This requires everyone's outrage. It needs to stop." Boardwalk Empire actor Jeffrey Wright added: "Tulsa Cops have serious questions to answer on #TerenceCrutcher. Once #TerenceCrutcher was shot, couldn't the cops there have shown him even 1/10 of the concern they showed for the woman who killed him?"
Rapper Pusha T called for the "good" police officers to speak out against police brutality against innocent African-Americans, commenting: "And all of you "good policemen/women" are being too quiet... #TerenceCrutcher was murdered!! Do you not agree?? Why so silent? To all law enforcement around the country, YOUR SILENCE IS SICKENING!!! #TerenceCrutcher was MURDERED!!"
Chris Brown's ex-girlfriend Karrueche Tran also tweeted: "RIP #TerenceCrutcher How tf the officer in the heli gon say "he looks like a bad dude" How TF CAN YOU TELL HE LOOKS BAD? CAUSE HE'S BLACK??!"
In aerial footage of the incident taken from a helicopter, a person can be heard commenting: "That looks like a bad dude too. He might be on something."
Responding to the "bad dude" comment, Crutcher's twin sister Tiffany Crutcher told The Washington Post: "We're truly devastated. The entire family is devastated. That big bad dude was a father, that big bad dude was a son, that big bad dude was enrolled at Tulsa Community College just wanting to make us all proud, that big bad dude loved God, that big bad dude was in church singing with all of his flaws every week."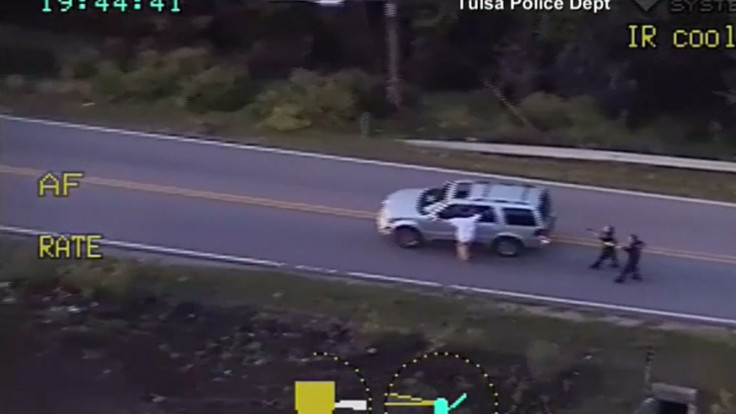 © Copyright IBTimes 2023. All rights reserved.