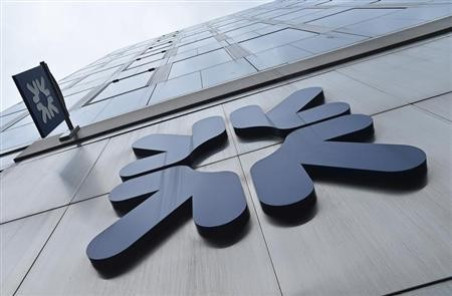 The British government is mulling over recommendations by a Whitehall-commissioned review board to create an internal "bad bank" instead of dismantling RBS.
According to a number of media reports, Chancellor George Osborne is expected to halt plans to break up the Scottish lender and instead hive off problem loans into one dedicated unit, known as a "bad bank".
Last week, Osborne revealed that he will decide the future of state-controlled RBS in the "next two or three weeks".
"That's the top of my in-tray," said Osborne.
He also disclosed that the government will not sell its 81% holding in the bank until after the next general election, adding that the government is preparing to sell Lloyds Banking Group shares to the public.
"We are now looking actively at a retail offer for the next tranche of Lloyds shares," he said. "With RBS we are not, at the moment, close to the stage of being able to sell RBS shares.
"RBS was a much more complex bank [than Lloyds]. To be fair to management past and present it was a bank that was in a lot more trouble. The clean-up job has been more difficult but we have got to make these decisions now about the future for RBS."
The UK Treasury declined to comment.
Saving RBS
RBS was bailed out with £45bn ($73bn, €53bn) of government funds in 2008.
Bank officials and the government are dealing with its "toxic assets", which are estimated at £50-£60bn by US asset manager BlackRock Solutions.
BlackRock was appointed in July this year as an advisor on the Treasury's review of whether or not it should split the toxic assets of RBS off into a separate "bad bank" ahead of its eventual privatisation.
The UK Treasury has also commissioned Rothschilds, which is to prepare a report examining whether the bank should be split in two, with a "good" and "bad" side.
"We are looking at the case for a bad bank and if not a bad bank what is the alternative strategy that really gets on top of the problems in that bank and goes on being what I want it to be, which is a bank supporting the British economy," Osborne said.