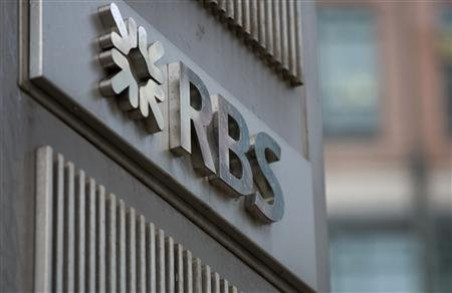 The Royal Bank of Scotland's Irish unit, Ulster Bank, has revealed that its customers are experiencing difficulties with money transfers and online banking, in the latest of a long-run of problems to hit the embattled lender.
According to a series of tweets by the official Ulster Bank Twitter account, it told customers "that it was aware of the problems and that customers would be compensated for any losses."
A spokeswoman said "it was only affecting customers in the Republic of Ireland."
RBS received a taxpayer funded £45bn (€54bn, $73bn) bailout in 2008 which eventually led it to be 81% owned by the government.
RBS revealed over the last week that it will compensate customers who were affected by the mass outage to its online and phone banking services, which potentially left millions of people unable to purchase goods or receive payments, echoing the debacle in 2012.
Only a couple of days after this statement, RBS's Natwest banking systems were hit again but this time by a distributed denial of service attack (DDoS).
A DDoS attack seeks to disrupt websites and other computer systems by flooding the targeted organisations' networks with computer traffic.
RBS and its retail subsidiaries, such as Natwest and Ulster Bank, are no strangers to technical faults for its consumer banking services.
In August 2012, RBS revealed that it had put aside £125m to compensate thousands of customers affected by a two-week computer breakdown, which led to millions of customers being stranded without case and without being able to pay for outgoing bills.
In April this year, Britain's financial watchdog said it will investigate RBS over its 2012 computer failure that left millions of customers unable to access their accounts.
RBS's Raft of Other Problems
On 11 December, RBS revealed that its finance director Nathan Bostock has resigned, after just 10 weeks into the job, to join Spanish group Santander.
This announcement was made only hours before it announced that a collection of US regulators fined the RBS for $100m after the bank violated US sanctions with Iran.
The European Commission fined RBS along with seven other banks a combined total of €1.71bn for operating in two cartels in the euro and Japanese yen interest rate derivatives markets.
RBS alone was slapped with €391m in fines for its bankers' roles in the cartels.
It follows a £390m fine settlement for Libor fixing from UK and US regulators in February, as well as millions more in fines and litigation costs for the mis-selling of derivatives to small businesses and Payment Protection Insurance (PPI) to consumers.
Meanwhile, the Serious Fraud Office may be laying the ground work for a criminal investigation into the RBS after a government adviser claimed the bank engineered businesses into default while profiting from their struggles.
RBS's CEO Ross McEwan denied the bank had committed any wrongdoing but drafted in magic circle law firm Clifford Chance to conduct an 'independent internal review' to look into Lawrence Tomlinson's allegations.